Adam Darizs Wins Hungarian Highland Games Strength Challenge
"The Hungarians just love Highland Games," IHGH vice president Francis Brebner told IronMind as he filed a report on the 2011 Hungarian Highland Games Strength Challenge.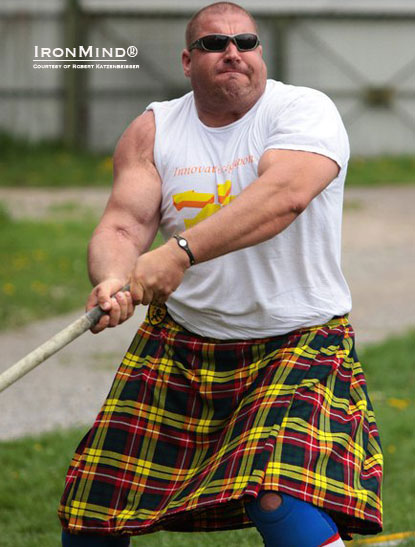 Adam Darizs won the 2011 Hungarian Highland Games Strength Challenge. IronMind® | File photo courtesy of Robert Katzenbeisser.


2011 Hungarian Highland Games Strength Challenge
by Francis Brebner

Recently held in the town of Kislöd was the 2011 Hungarian Highland Games Strength Challenge. This was a combined test of strength between five events, three of which were traditional Highland Games events that included the heavy hammer, 56-lb. weight over the bar and the caber for distance, the two other events included the farmer's walk and the renown manhood stones.

This type of combined strength event - traditional Highland Games seem to be going over very well in Hungarty and is rapidly growing. One of the good aspects about this type of Highland Games Strength Challenge is that the strength events such as farmer's walk and the manhood stones are that these are olden strength events that originated in Scotland, and there have been challenges and shows of strength between many athletes over the decades to see who could go the farthest carrying a full milk churn in each hand. With the manhood stones, it was a test of strength to see who could lift the likes of the famous Inver stone, a 264-lb. boulder that had to be placed on to a wall at waist height. In doing so, any young man would have shown he was now a man and come into his own and would be eligible to wear a eagle's feather in his cap as a sign of this.

One great man we have all to thank for seeing such traditional strength events being kept alive and finding their way into the likes of World Strongest Man contest is David Webster O.B.E. No other one person has done so much for sport of Scottish traditional games and strongman, period.

But getting back to this event was held in the majestic setting of Sobri Adventure Park in Kislod which had perfect weather on the day and drew large supporting crowds of fans from near and far that cheered on their favourites thoughout the day. The entire event was also filmed for Hungarian TV which is being made into a 60 minute sports special.

The line up of hulking athletes included Adam Darizs ,Tamás Saliga, Ákos Nagy, Lóránt Csikós, Rajmond Mengyi, Róbert Németh, Gábor Kranitz and Gabor Hrozik


In the opening event with the 29-lb. heavy hammer, it was Adam Darizs who dominated with a throw of 65 '6" and in second place was Gábor Kránitz with 62' 3".

The next event, the 56-lb. weight for height, was a very hard fought challenge with Ákos Nagy coming out on top with a winning height of 15 '9". Ákos also tried for a new national record height of 16 4" on extra attempts, but just missed out. In second place was Adam Daruzs with a height of 14 '4" with Kránitz in third place with 13' 7".

The next event was the farmer's walk with 260-lb. in each hand. This was done for time over a course of 35 m which was won by Gabor Hrozik in 18.81 sec. In second place was Adam Darizs with 20.97 sec. and in third place was Csikós with 22.23 sec.

The caber toss for distance featured a caber 16' in length and 110 lb. in weight; this was won by Ákos Nagy with a distance of 10.13 m and in second place was Adam Darizs with 9.78 m. Saliga was the third place with 9.15 m.

The last event was the 330-lb. manhood stone which was lifted up and over a bar at the height of 122 cm high for reps and with all athletes achieving one repetition it come down to Saliga who squeezed out two reps for the win, which sent enthusiastic fans wild with thunderous cheers.


Adam Darizs said he was very pleased with his winning performance, his sixteenth title win so far, and he has sights set on the IHGF European Amateur Championships, scheduled for July 2 in Hungary.


Overall results

1. Adam Darizs
2. Tamás Saliga
3. Gábor Kranitz
4. Ákos Nagy
5. Gabor Hrozik
6. Lóránt Csikós
7. Róbert Németh
8. Rajmond Mengyi

###



The IronMind Forum: discuss this article, talk strength, get help with your training.

You can also follow IronMind on Twitter.