Aaron Baumann Certifies on the Red Nail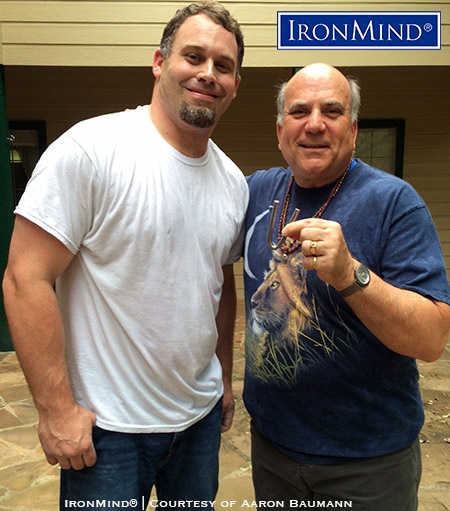 When he certified on the Captains of Crush No. 3 gripper, Aaron Baumann told us he was aiming to certify on the Red Nail next—and he's just done exactly that.

"By the way, don't think Aaron plans to sit on his laurels: 'After the CoC No. 3, I plan to start training for the Red Nail,' he said when he certified on the Captains of Crush No. 3 gripper.

Now, the 6'2" 230-lb. middle school special education teacher (who formerly "worked as a behavior therapist with children on the autism spectrum") has reached another major milestone in the world of lower arm strength as he succeeded in bending the benchmark IronMind Red Nail under official conditions.

"I have been bending nails for 9 months with the main goal of certifying on the Red Nail. I usually bend 1-3 nails per workout, 4-5 times per week. I am also certified on the CoC 3 [Captains of Crush No. 3 gripper]. In the past, I competed in Olympic weightlifting and played football (tight end) at Azusa Pacific University," Aaron told IronMind.

"I would like to give a huge thanks to my referee, Joe Vitale for volunteering his time to help me accomplish this goal. Furthermore, I would also like to thank IronMind for tremendous strength products and my loving wife Erica for all her love and support."

We'd like to add our thanks to Joe Vitale for refereeing on Aaron Baumann official attempt to bend a Red Nail.

Congratulations, Aaron—you name has been added to the Red Nail Roster!


                                                       ###


You can also follow IronMind on Twitter and on Facebook.                        


Want to talk grip, strongman, weightlifting . . . everything strength? Visit the IronMind Forum.