ASC: Strongman Fitness to Debut at 2013 Arnold
ASC has just announced "a new forum for all athletes to compete at the highest level," in what is being called strongman fitness.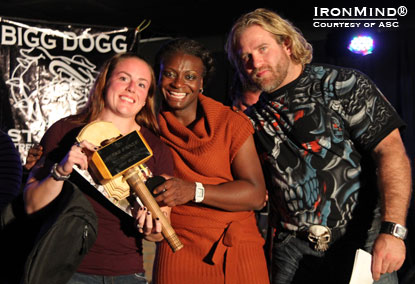 2012 lightweight national champion Kristyn Vytlacil Whisman (left) with Dione Wessels (center) and Mike Johnston (right). IronMind® | Courtesy of ASC.


Here is the official ASC press release, verbatim:


Strongman Fitness Will Make Debut at the Arnold in 2013

January 2, 2012 – In response to overwhelming interest ASC will create a new forum for all athletes to compete at the highest level

"When one thinks of a strongman, visions of great men of myth and legend like Hercules, Samson and Milo probably come to mind. In the modern era ASC strongman like Marshall White, Michael Burke, Brian Shaw, Vincent Urbank and many others fit the bill. But, let's be honest who among us towers over 6'4" tall and weighs in at 330 + pounds?

So what about the rest of the world? "Stature is not the only determining factor of great strength or zeal for competition," says ASC President Dione Wessels. "I am a 5'2" woman. I was a National champion strongwoman and World championship power lifter. I love and have dedicated my life to strength sports. With that being said, ASC is proud to announce that the first Strongman Fitness Championship will take place at the Arnold Sports Festival in 2013."

So, what exactly is Strongman Fitness? "We are not reinventing the wheel here," quipped ASC VP Mike Johnston, "Light weight men's and women's classes already exist in strongman. We are merely provided an opportunity for these amazing athletes to compete on the biggest stage in fitness the world."

The first Strongman Fitness qualifiers will take place at ASC platinum plus shows in 2012. Top men and women will qualify directly for the Arnold in 2013. The rest of the field will come from the NAS Nationals in November 2012. The weight classes for Arnold and the platinum-plus qualifiers will be a 175-pound men's open with athletes weighing up to 175 pounds and 150-pound women's open with women weighing up to 150 pounds. The up to 175 pound men's class and the traditional NAS women's lightweight and middle weight classes will remain at the NAS Nationals with a percentage of competitors coming from each class.

"We are very excited about these classes as we believe that athletes from around the world will want to compete," continued Wessels, "In America this will help our local NAS promoters by giving them a whole new athlete base as lighter weight competitors and women try to qualify for the Nationals. NAS promoters will be able to offer the traditional men's 175 and women's LW and MW classes."

"We anticipate a myriad of questions regarding Strongman Fitness," commented Johnston, "We will be setting up a "sticky post" on the NAS Anvil to field questions. Further, ASC will be organizing training seminars and coaching conferences for those interested in strongman techniques, training principles and Strongman Fitness application. These courses will be rooted in science and proctored by our award winning team of National Champions, strength and conditioning coaches, medical professionals and physical educators."

More information will be forth coming on the nas forum at nasanvil.com

###

The IronMind Forum: discuss this article, talk strength, get help with your training.

You can also follow IronMind on Twitter.