The Venice area of southern California has more muscle history than any other piece of real estate in the world, so when three-time World's Strongest Man winner Bill Kazmaier says, "There has never been this much muscle there before," it's time to listen up.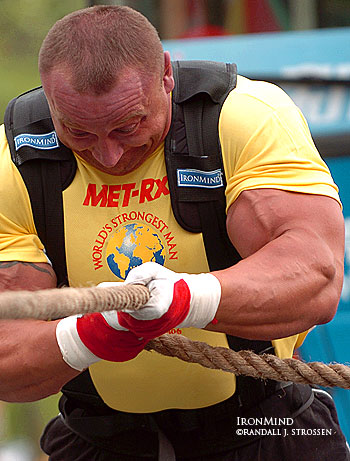 "Were very lucky to have Mariusz in strongman . . . he could have been a bodybuilder," said Bill Kazmaier. Mariusz might have the muscular development of a bodybuilder, but looks alone didn't produce his three World's Strongest Man victories . . . Mariusz Pudzianowski is in the most elite stratum of strongmen and he'll be competing at in the WSMSS Muscle Beach Grand Prix this Saturday. IronMind® | Randall J. Strossen, Ph.D. photo.

Talking about the rich history of Muscle Beach - an international magnet for bodybuilders, lifters and acrobats/hand balancers for more than half a century - Bill Kazmaier was quick to give credit to the leading bodybuilders who have called the area home. "This is the mecca of bodybuilding," the Kaz told IronMind®, "but for this much muscle to be there is monumental . . . they should put up another plaque [commemorating the occasion]. There have been some buff guys there and some guys who have pumped a little iron, but there has never been anything like this before. All this contest is missing is [Phil] Pfister."

Bill Kazmaier is talking about the World's Strongest Man Super Series Muscle Beach Grand Prix, and it's this Saturday in Venice, California, with a start time of high noon.