85s Rock: Aleksey Yufkin Hits the Long Ball
Kazan, Russia—The men's 85-kg class at the European Weightlifting Championships last night picked up where the 77s had left off: The title was decided on the final lift, as Alexksey Yufkin (Russia) cleaned and jerked a massive 215 kg to beat his teammate, Apti Aukhadov, the 18 year old junior world champion, on body weight; and adding to the excitement, Benjamin Hennequin (France) bagged the bronze medal when he uncorked a 208-kg clean and jerk.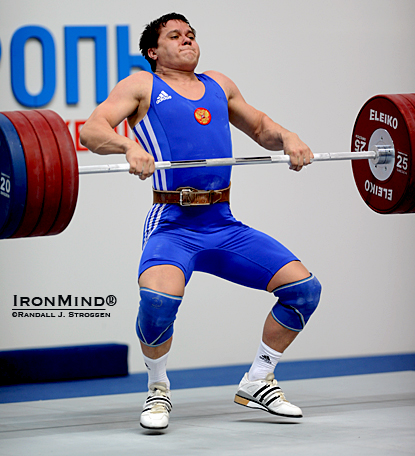 Going for the gold: Aleksey Yufkin pulls himself under this 215-kg clean and jerk at the 85-kg category at the European Weightlifting Championships. IronMind® | Randall J. Strossen photo.


The battle for top honors was predicted to come down to the Russian teammates, and there was some feeling that dark horse Benjamin Hennequin might produce a clean and jerk big enough to land him on the podium - all of which sounded exciting enough on paper, but when it happened, it lit up the competition hall with an evening of weightlifting at its finest.

Aukhadov stuck 168 kg on his first attempt snatch, missed 173 kg, and then came back to make it, as he opened up a 3-kg lead over his teammate, Yufkin. Hennequin, not known as a top snatcher, was in sixth place, with 165 kg, but to put that in perspective, only his body weight pushed him from the bronze medal in that lift as four lifters ended with that same number.

Hennequin looked even stronger than usual in the clean and jerk, with a big pull launching the clean and a narrow, shallow split polishing off a powerful jerk; and his 208-kg success signaled that more than ever, he's a big league player.

Aukhadov's 212-kg third attempt success was seen as slamming the door on his teammate, but with the final lift, Yufkin proved this wrong because he called for the 215 kg needed for the victory, and then made short work of turning theory into practice with a challenging but rock solid good lift.

###

IronMind Forum: talk strength, discuss this story. Strongman, grip, Highland Games, Olympic lifting, stones and more.

You can also follow IronMind on Twitter.