SCL Grand Finale: Zydrunas Savickas Wins SCL Malaysia, Krzysztof Radzikowski Wins SCL World Championships
Kuala Lumpur—Picking up where they left off yesterday, the MHP Strongman Champions League thrilled the crowd which included local dignitaries with top professional strongman competition and two champions were crowned: Zydrunas Savickas won the weekend's SCL Malaysia competition and Krzysztof Radzikowski won the 2013 season title.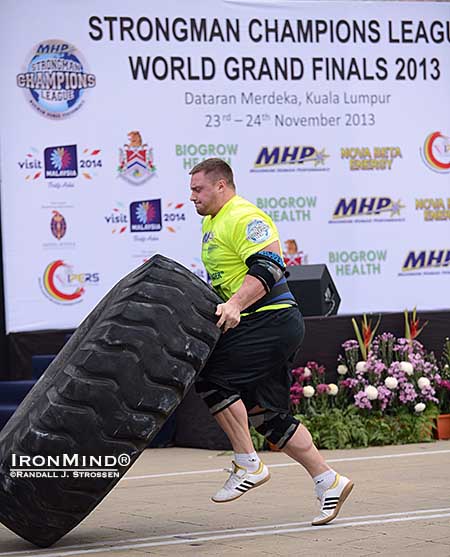 Krzysztof Radzikowski flew through the Tire Flip and finished off the SCL Grand Finale as the 2013 MHP Strongman Champions League World Champion. IronMind® | Randall J. Strossen photo


The action began today with the Car Deadlift, and weighing approximately 375 kg, it proved to be a tough challenge. Zydrunas Savickas won with 8 reps, followed by Dainis Zageris at 7 reps and Krzysztof Radzikowski at 6 reps.

Next up was the Tire Flip: 350 kg for 8 flips. To demonstrate how heavy the tire was, volunteers from the crowd were offered the chance to pit their strength against the weight of the tire and when nobody succeeded individually, the combined efforts of two guys managed to conquer the tire. Then Krzysztof Radzikowski gave everyone a lesson in the event as blew through the challenge, followed by Mike Burke and Zydrunas Savickas.

Cleaning and pressing a 155-kg log for reps was the next event, which was won by the world record holder in the Log Lift, Zydrunas Savickas, with 7 reps. Mike Burke was second, with 5 reps, and Dainis Zageris was third, with four reps. Radzikowski injured his right arm during the event and was going to withdraw, but he went on to final event although he was basically flying with one wing at that point.

The final event was an arm-over-arm Bus Pull, which was won by Hafthor Julius Bjornsson. Ervin Katona was second and Mike Burke was third.

SCL Malaysia: Final Scores (top 6)
| | | |
| --- | --- | --- |
| 1. | Zydrunas Savickas | 91.0 |
| 2. | Mike Burke | 86.0 |
| 3. | Krzysztof Radzikowski | 74.0 |
| 4. | Ervin Katona | 73.0 |
| 5. | Hafthor Julius Bjornsson | 71.5 |
| 6. | Dainis Zageris | 70.0 |

2013 SCL World Championships (top 3)

1. Krzysztof Radzikowski
2. Zydrunas Savickas
3. Ervin Katona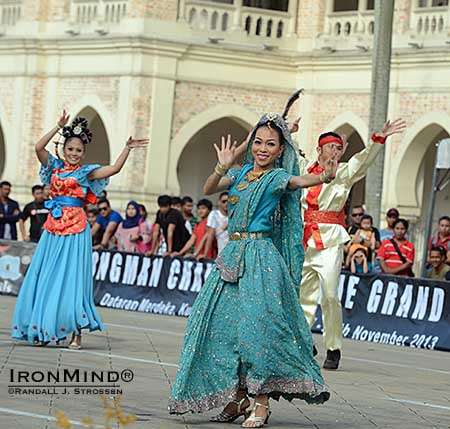 Local culture was featured throughout the SCL Grand Finale in Kuala Lumpur, Malaysia this weekend. IronMind® | Randall J. Strossen photo

###



Visit the IronMind Forum: talk strength, discuss this story. Strongman, grip, Highland Games, Olympic lifting, stones and more.

You can also follow IronMind on Twitter and on Facebook.