69-kg Category at the Olympics: Liao Hui Continues Chinese Tradition
Beijing - It wasn't just that he won - keeping China's roll alive, with three men's classes and three gold medals - or that he won big; the kicker is that this was Liao Hui's second international competition, so if you've never heard of him, you have plenty of company.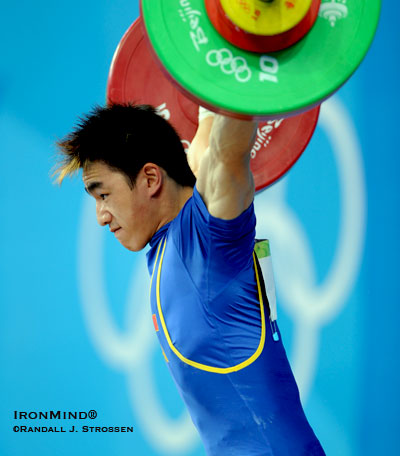 You know what they say about gaining experience and making your openers: This was Liao Hui's second international meet and he missed both his openers, yet he ended the evening as the Olympic gold medalist in weightlifting's 69-kg category. IronMind® | Randall J. Strossen, Ph.D. photo.

China had a second lifter entered in this class - 2004 Olympic gold medalist Shi Zhiyong - but IronMind® was told just before tonight's competition began that Liao Hui was in better shape at the moment, which certainly proved to be true.

Shi Zhiyong, normally an incredible snatcher, missed his opener, 152 kg, a miss that signaled he might be in trouble. He was, because while he stuck it on his second attempt, he missed 157 on his third attempt and he looked worried - he might have known something the rest of us didn't, because that was the end of the contest for him.

Liao Hui seemingly gave his teammate a second chance because he, too, missed his opener, 153 kg, but he came back to make that weight and then he smoked 158 kg, to go into the cleans and jerks with a 5-kg lead over his closest rival. More than just the numbers, though, Liao Jui exuded confidence - it was as if he had already won the contest and going through the lifts was just a formality for him.

This class had a number of guys capable of pulling off big lifts, including Vencelas Dabaya (France) and Tigran Martirosyan (Armenia).

Not to be overlooked, either, was Lee Baeyoung (Korea), whose chances were looking especially promising after he made three good snatches - 150, 153 and 155 kg - but something went awry and he collapsed on his opening jerk (184 kg). People swarmed on the platform to assist him and just when it appeared that Lee Baeyoung was going to be carried off, he walked away under his own power. Martirosyan also flirted with danger, as he missed his first two power jerks, 183 and 185 kg, before making 185 on his third attempt after a big fight to control the jerk - good for the bronze medal.

Lee came out for 186 kg, but only gave the bar a little tug, and when he repeated with the weight on his third attempt, he racked the bar, but then went sprawling forward with it, so even after his strong start, his chances of a big night had vanished in an instant.

Everyone was assuming that Dabaya could make up some lost ground with his big clean and jerk, and the way he manhandled 187 kg on his first attempt certainly offered the promise of more to come. But after Liao Hui ended with a very solid 190 kg, Dabaya called for the winning weight - 197 kg - and with two shots at it, his attempts were more symbolic than real and he had to settle for the silver medal.

Liao Hui rocked the house with his win and here he was, the third Chinese gold medalist in as many men's classes in weightlifting at the 2008 Olympics . . . and you probably never heard of any of them before.