Costa Mesa: Top Heavy Events Pros, New Talent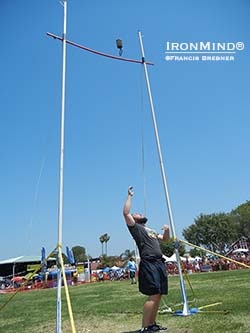 Matt Vincent won the professional class at the Costa Mesa Highland Games, where the excitement included outstanding throws in lightweight class by Jacob Nicol and the heavy events debut of discus thrower Julian Wruck.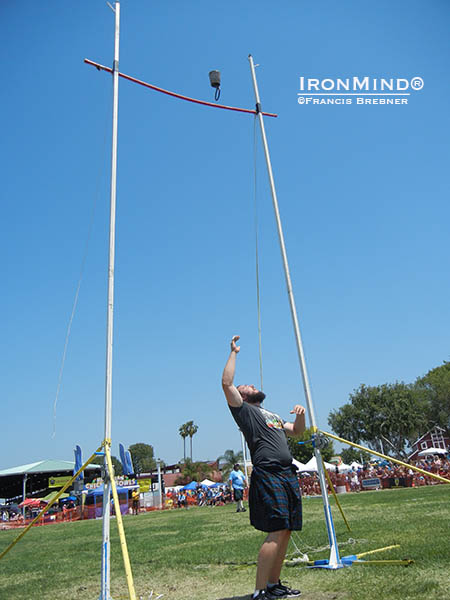 Julian Wruck coming close to making 22 feet in the 42-lb. weight for height—it was the Highland Games Heavy Events debut for the Austrialian discus thrower, who is a student at UCLA. IronMind® | Francis Brebner photo


2014 Costa Mesa Highland Games

by Francis Brebner
CEO, International Highland Games Federation (IHGF)


The Costa Mesa Highland Games this past weekend drew more than 30,000 spectators over two days of heavy events competition, and they witnessed some of the best stone putting in the sport of Highland games in the last decade.

A total of 108 athletes made up the field in several categories, including professional, amateur A, B, and C groups, masters, women and novice. The pro division had a hefty lineup athletes: Matt Vincent, Dan Williams, Rusty Price, Jake Sullivan, Nick Kahanic, Jon O'Neil, and Ryan Stewart.

In the first event with the 22-lb. Braemar stone, local favorite O'Neil notched the first win with a putt of 41' 3". In a close second place was Vincent with 40' 7", with Williams in third at 40' 3-3/4".

The 16-lb. open stone was ultimately the highlight of the weekend as Vincent unleashed a world-class series of putts. Straight out of the gate he blasted a putt of 58' 10", followed by a barrage over 60' with his best being 61' 8-3/4", breaking the field record owned by John Davis of 60' 3-1/2" set in 2002. Second place was Kahanic with 54' 5" and third O'Neil with 52' 3-1/4".

In the 28-lb. weight-for-distance, Vincent looked a little leisurely with his speed but despite this, he managed knock out his second win with a throw of 81' 3-1/2". Right behind was Sullivan at 79' 11-1/2" and in third Stewart at 79'.

The 56-lb. weight-for-distance was a magnificent event, closely watched by all as Williams pulled out several world-class throws, with his best being 46' 2-1/2" for the win. Vincent was second with a respectable 42' 10-3/4", and Stewart third at 41' 11-1/2".

The 16-lb. hammer was to be Vincent's third victory via an excellent throw of 136' 8", nearly three metres farther than any of his rivals. Second was Sullivan at 128' 2" and third Williams at 117'.

In the 22-lb heavy hammer, Sullivan rose to the challenge and triumphed with a throw of 114' 11". Vincent came second with 108' 6-3/4" and Williams third with 104" 7".

The 56-lb. weight-over-bar was riveting as Vincent and O'Neil duked it out, tying at 17' with the win going to Vincent on countback with fewer attempts. Third was Sullivan at 16'.

The 20-lb. sheaf-over-bar was a slug fest with O'Neil, Vincent, and Stewart all clearing the height of 30'. The bar was then moved to 32' and all three fell short, with the win awarded to O'Neil on countback with few misses; Stewart was second and Vincent third.

The caber was 130 lb. and 18' 6", perfect proportions as only the best three in the group were able to toss this mighty stick and no perfect 12 o'clock was given. The event was finally won by Vincent with a toss of 12:05; in second place was Sullivan with 10:50 and in third Williams with 10:30.

Overall points:
| | | |
| --- | --- | --- |
| 1. | Matt Vincent | 14.0 |
| 2. | Jake Sullivan | 30.0 |
| 3. | Dan Williams | 33.0 |
| 4. | Jon O'Neil | 36.0 |
| 5. | Ryan Stewart | 38.0 |
| 6. | Nick Kahanic | 50.0 |
| 7. | Rusty Price | 54.5 |

Highlights of the weekend included Jacob Nicol breaking the lightweight world record in the 42-lb. weight-over-bar at a height of 19', smashing the old record of 18' 3". In the novice division and making his debut in a Highland Games was Australia's Julian Wruck, a discus thrower and 2012 Olympic athlete, who definitely has a future in the sport. Julian pulled out some very impressive numbers for a first-timer: 22-lb. Braemar stone 37' 10-1/2"; 16-lb. open stone 51' 6-1/2"; 28-lb. weight-for-distance using one turn 71' 6"; 56-lb. weight-for-distance 39' 10"; 16-lb. hammer 113' 9-1/2"; 22-lb. hammer 84' 8-1/2"; and 60-lb., 16'-long caber three perfect 12:00 tosses. To cap things off in style in the 42-lb. weight-over-bar, Julian sent the crowd wild as he cleared 20' and then moved up to 22', which he just missed.

Next up on the Southern California circuit will be the San Diego Highland Games in June.

###



Want to talk strength? Join the IronMind Forum.

You can also follow IronMind on Twitter and on Facebook.