Doha - Li Ping (China) was pushed hard by Junpim Kuntatean (Thailand), but in the end, the junior world record holder in the jerk and in the total prevailed.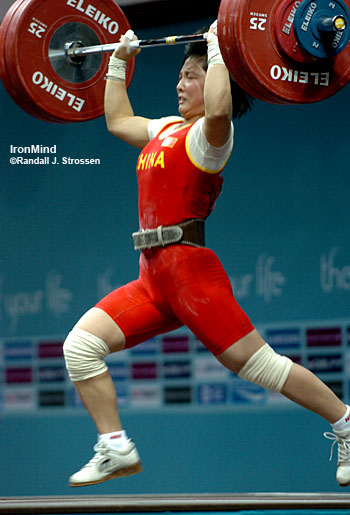 Li Ping (China) drives herself under 129 kg, going for a handful of world records at the Asian Games. She missed the lift, but won the gold medal in the women's 53-kg category. IronMind® | Randall J. Strossen, Ph.D. photo.
The snatches in this class were characterized by a lot of misses: Just over 50% of the lifts were good and all six attempts at 95 kg were missed. The heat was turned up a notch in the clean and jerks, as Li made a solid, stoic lift with 123 kg on her opener, for first-place position. Kuntatean, who had opened with a good 120, took 124 kg on her second attempt, going for first on bodyweight and she made a nice lift - she had to work to recover on the clean, but she made a very strong jerk. Li took 126 on her second attempt, tying her junior world record in the total, and she made another good lift - just like her first attempt. Not rolling over and playing dead, Kuntatean called for 127 on her third, going for the gold medal, but she could not stand up with the weight. Li, gold medal in hand, went for 129 on her third attempt: If successful, it would break her junior world record in the jerk and the total, as well as the senior world record in the jerk. The clean looked much like her first two attempts, but she missed the jerk, getting clocked in the back of the head as the bar came back down. Li won the gold with a 224-kg total; Kuntatean got the silver with 221 and Yu Wei Li (Hong Kong - China) beat Raema Lisa Rumbewas (Indonesia) on bodyweight for the bronze with a total of 207 kg.