3rd Annual Rockingham Athletic Club Highland Games
In a break with tradition, New Hampshire's 3rd Annual Rockingham Highland Games had nearly-balmy weather for its four-division (Amateur, Lightweights, Masters, Women) competition.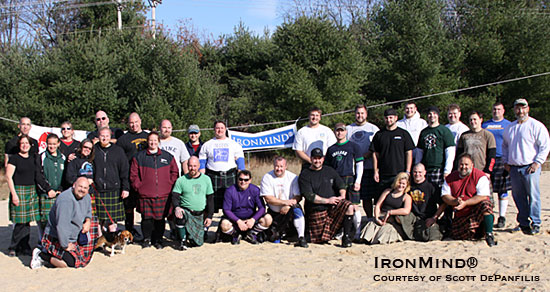 Who needs the usual "snow and freezing rain" to have a good time at the Rockingham Athletic Highland Games? IronMind® | Photo courtesy of Scott DePanifilis.
Scott DePanfilis filed this report with IronMind®.

Rockingham Athletic Club Highland Games

By Scott DePanfilis

Saturday, November 7, was the Third Annual Rockingham Athletic Highland Games, formerly called the Cold Weather Classic "for good reason," held at the Rockingham Athletic Club in Plaistow, New Hampshire. Many of the throwers live in New England, but some traveled from New York and Rhode Island, and we've also hosted athletes from Arizona and Nevada. The weather has not been accommodating the past two years, with mostly snow and freezing rain, but this year we were blessed with a sunny 55-degree day. We had 30 competitors and four divisions, and ran three trigs on the field.

Bill Waddell won the Amateurs; Mike Berby won the Lightweights; Robert Troupe won the Masters; and Denise Houseman won the Women's division. We witnessed great performances throughout the day, a really awesome group of athletes. We were fortunate to receive sponsorship from Randall J. Strossen's IronMind® Enterprises, Inc. There's something distinctive about seeing a blue and white IronMind® banner on the field of battle. In the photograph, amateur competitor and former junior bench press champion John McKenney proudly sports a MILO® t-shirt. He wasn't even aware that IronMind® was a sponsor until he arrived Saturday morning.

During our dinner and awards ceremony, we presented two Captains of Crush® gift certificates for the Challenge Caber event winners. I'd also like to thank MB Tractor for loaning us a 60-ft. telescoping lift for the sheaf toss. It makes running the event so much easier! Thanks to competitors–field director Kenneth Gustavson for his unwavering friendship and commitment to running these Games, to Wayne Hill for loaning us much of the equipment and apparatuses, and to all the competitors and volunteers. We obviously can't do it without your support.