218-kg Clean and Jerk Gets the Gold for Tian Tao
Incheon, South Korea—He had the last attempt in the 85-kg class and Tian Tao (China) didn't waste it: he hammered a 218-kg clean and jerk for all the marbles in weightlifting at the Asian Games tonight.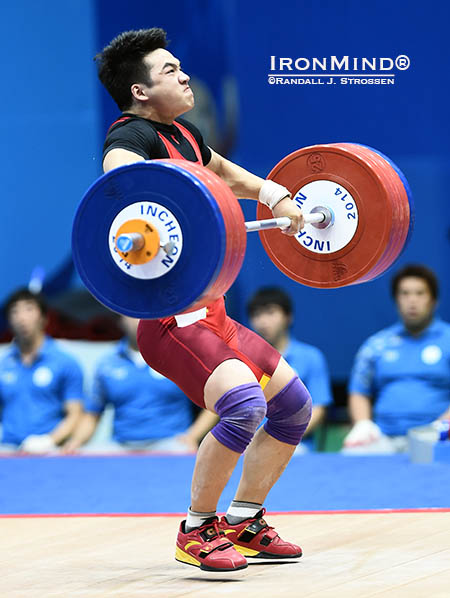 Tian Tao pulls himself under 218 kg for the gold medal. IronMind® | Randall J. Strossen photo




Tian got off to a rocky start in the snatches as he only made his opener, 163 kg, before sending 168 kg up and over his head on his second and third attempts. At the other end of the spectrum, Sa Jaehyouk (South Korea) managed to save his 165-kg first attempt even though his toes were coming off the platform as he fought for control. Jumping to 171 kg on his second attempt, he had make a similar adjustment but not as dramatic, and with all that good fortune, he passed on his third attempt. Kianoush Rostami (Iran) missed 166 kg on his opener, made it on his second attempt, and then hit 172 kg on his final attempt.

The wheels came off the car for Sa Jaehhyouk in the clean and jerk as the made strong cleans with 207 kg (twice) and 210 kg, but missed the jerk each time. Rostami made an easy 208 kg on his first attempt but then missed the jerk twice with 212 kg, after strong cleans.

Meanwhile Tian, who had made 205 kg and then missed 211 kg, was waiting in the wings—the way he handled the winning 218 kg, it looked as if he could break the world record in the clean and jerk any time he wanted to. 


###



Visit the IronMind Forum: talk strength, discuss this story. Strongman, grip, Highland Games, Olympic lifting, stones and more.

You can also follow IronMind on Twitter and on Facebook.