2018 Queen Mary Highland Games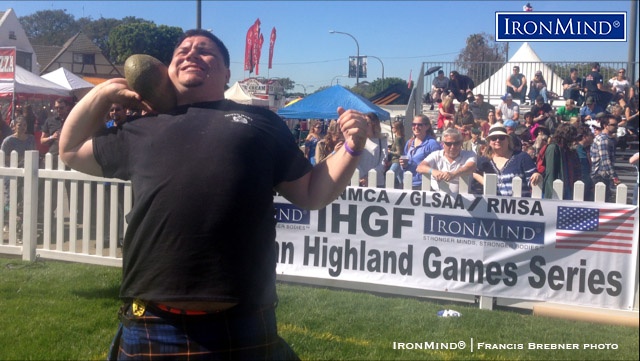 2018 Queen Mary Highland Games

Kyle Lille turned in an impressive performance for a commanding win at the Queen Mary Highland Games.



2018 Queen Mary Highland Games
by Francis Brebner
President, International Highland Games Federation (IHGF)



The Queen Mary Highland Games, held in Long Beach, California, attracted more than 8,000 spectators over its weekend of Scottish festivities while celebrating its 25th year of consecutive Highland games with more than 100 athletes competing over two days. Kyle Lillie, of Phoenix, Arizona, took top honors in his division with almost a clean sweep and a few personal bests. Lillie, standing 6' 4" and 325 lb., is a very impressive athlete and a rising star in Highland games. 
 


The Amateur A group division had a good turnout of heavy athletes that included Kyle Lillie, Gary Randolph, Eddie Brown, Sean Smith, Bryan Staggs, Rich Wilson, Sean Fritz, and Mike Baltren.
 


In the 24-lb. Braemar stone, Lillie dominated with a series of class putts to easily take the first win with 43' 2", followed by Brown at 38' 6-3/4" and Randolph at 37' 6-1/4". 

In the 16-lb. open stone, Lillie again unleased a series of class throws with his best at 52' 7" for back-to-back victories in the stones. Despite a severe rib injury sustained in training, Randolph gave his all with a putt of 51' 1/2"  for second place, with Brown in third at 45' 1-1/2".
 


Lillie's best in the 28-lb. weight for distance was 80' 5-1/2", which he upped to just over 86' on extra attempts. Randolph was second with 76' 10-1/2" and Brown third at 67' 4". 

Lillie produced a barrage of throws all over 40' in the 56-lb. weight for distance, with his best at 42' 3". Randolph did 32' 1-1/2" for second and Brown 35' 10" for third.
 


With four wins, Lillie continued his winning ways in the light and heavy hammers, doing 124' in the 16-lb. hammer to Brown's second-place 118' 3-1/2", marginally ahead of third-place Smith at 116' 1". Lillie threw 101' 10" in the 22-lb. hammer, followed by Smith at 91' 8" and Brown inches behind at 90' 9".
 


In the 56-lb. weight over bar, Lillie showcased excellent form, clearing the bar at 16' for the win. Brown did 15' and Baltren was third on countback at 13'. 

The 20-lb. sheaf over the bar saw three athletes clearing 25', with the victory going to Staggs on countback with fewer misses. Second place was Brown and third, Lillie. 
 


Only two athletes successfully tossed the 17' 4", 125-lb. caber: Brown and Lillie each produced 12 o'clock tosses, but on countback Brown had a better 12:05, giving him the victory. Third was Baltren at 60 degrees.
 


Overall results
 

1. Kyle Lillie 12

2. Eddie Brown 21

3. Sean Smith, Mike Baltren (tie) 37

5. Gary Randolph 48.5

6. Bryan Staggs 51     

7. Sean Fritz 51.5

8. Rich Wilson 66
 


The IHGF would like to thank the SAAA for including the Queen Mary Highland games as part of the IHGF All-American Highland Games qualifying series, and in particular, William and Cathy Ballard, along with all the SAAA judges and officials, who did great work in making the Queen Mary games a big success. The next in the IHGF All-American Highland games qualifying series is set for the Phoenix Highland games on 3-4 March.


                                                ###



You can also follow IronMind on Twitter, Instagram and on Facebook.                      



Want to talk grip, strongman, weightlifting . . . everything strength? Visit the IronMind Forum.