2018 French Highland Games Championships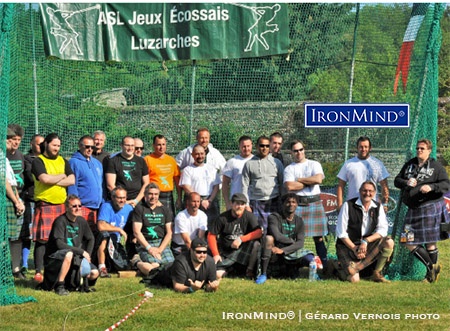 France—host the 2015 IHGF World Championships—continues to build on its base in the Highland Games, with highlights of the 2018 national championships including two new French records.

2018 French Highland Games Championships
by Marc Messéant
General Secretary, France
International Highland Games Federation (IHGF)
 

 
In a beautiful location by the 11th century abbey of Thiron-Gardais in Northern France, filled with history, the two-day national Highland Games competition started under blue skies with 8 competitors in the B group, 7 in lightweight, and 6 in masters. The competitors represented 4 clubs of the ASL Jeux Ecossais Luzarches: Luzarches, Bressuire, Saint-Michel-sur-Orge, and Guérande.
 
At the end of day one, three athletes were very close in the B category, with the outcome uncertain. Cyril Boucher and Fabien Patheney were each going for the French record in the light hammer, with Patheney taking first with a final throw of 32.92 m (108').
 
Two French records were made in the lightweight group: Wesley Verger in the light hammer with 28.13 m (92' 3/4") and Sébastien Pizon in the weight for height at 4 m (13' 1/4").
 
In the masters group, Marc Lahaie set a French record at the light hammer with a throw of 26.72 m (87' 8")
 
On a sunny, temperate day two, with no one taking a strong lead in any of the 3 groups, the final events determined the champions.
 
In the B group, Boucher won the weight for height, followed by Patheney, Maxime Régniez, and Maxime Billaud. At that point, Régniez led Patheney in the overall, 8 points to 9. All the competitors encouraged the leaders in the caber. Patheney achieved a nice 12:05, and Billaud 10:30. Régniez was unable to turn the caber, doing 70 degrees, and Patheney became the French champion for 2018.
 
A similar progression took place in the lightweight group, with Verger setting a French record in the light stone at 11.32 m (37' 2"). Tied overall with Pizon going into the light weight for distance, Verger was pushed to a foul on his last try, with Pizon taking the win and overall title of 2018 French champion. The experience will help Verger, who is only 22 years old and a young thrower.
 
The Masters too had a suspenseful end, with Lahaie winning the light stone and Xavier Tatibouet taking the last event, the light weight, and so retaining the title of French champion for 2018.
 
The competition ended with a tug-o-war.


                                                ###



You can also follow IronMind on Twitter, Instagram and on Facebook.                        



Want to talk grip, strongman, weightlifting . . . everything strength? Visit the IronMind Forum.