2018 Costa Mesa Highland Games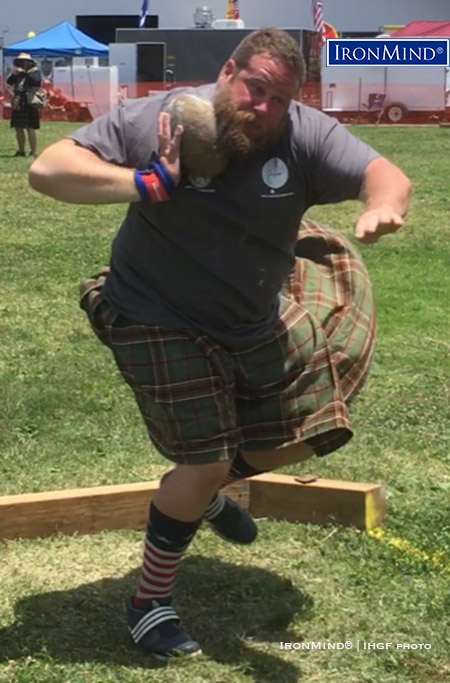 The Costa Mesa Highland Games continued its tradition of tight-flight competition, and IHGF president Francis Brebner called the action for IronMind.


2018 Costa Mesa Highland Games
by Francis Brebner
President
International Highland Games Federation (IHGF)


The 2018 Costa Mesa Highland Games in Southern California attracted thousands of spectators and more than 110 athletes in the two-day competition. For A group athletes Kyle Lillie, Mike Baltren, Sean Smith, Sean Burns, Gary Randolph, Zechariah Whittington, and Colin Dunbar, it was also the fifth leg of the IHGF All-American Championships qualifying games.
 
Lillie dominated the 22-lb. Braemar stone with world-class putts all over 44' with a best of 44' 10-1/2". Dunbar followed at 42' 10-1/2" for second, and Randolph was third at 40' 4-1/2".

The 16-lb. open stone was a high-class competition, in which Randolph sought retribution with his putt of 56' 5". Second was close, with Lillie inching ahead of Dunbar, 54' 1-1/2" to 54'.
 
Lillie has been knocking on the door of 90' in the 28-lb. weight for distance, doing a series all over 87' at this games, and 88' 4" on extra throws. Randolph trailed at 81' 4", followed by Dunbar at 78'. 

In the 56-lb. weight for distance, Lillie pulled out his best at 43' 7-1/2" for the victory. Randolph settled for second at 41' 11"; Dunbar was third at 39' 1-1/2".

The 16-lb. hammer it was a hard-fought battle between the top three athletes, with the win again going to Lillie at 127'. Second was Dunbar at 125' 5", just inches ahead of Randolph at 124' 9-1/2".
                                                                 
Dunbar took it up a gear in the 22-lb. hammer, blasting out 107' 9" for the win. Second was Lillie 101' 7-1/2" and third Randolph at 97'. 

Only two athletes turned the 17' 4" long and 125-lb. caber, with the win going to Randolph's 12:05. Lillie did 11:30 and Whittington 85 degrees.

A highlight was the 56-lb. weight over bar, which started at 12' and all athletes still in at 14'. Five athletes cleared 15', and at 16' only Dunbar and Lillie prevailed, moving to 17', which they both cleared. At 18' the atmosphere was electric as Dunbar cleared the height, throwing down the gauntlet to Lillie, who narrowly missed. The bar was raised 1" above the world record height, to 18' 3", and cheered on by the crowd, Dunbar lobbed the weight over the bar. Some of the first to congratulate Dunbar on his impressive throw were pro athletes Andy Vincent and Spencer Tyler. Dunbar then asked for 18' 6" but missed on clearing. Sadly, as reported the next morning, the weight turned out to be underweight, but we predict it is just a matter of time before big Colin will be successful with his record throw.        

The final event with the 20-lb. sheaf toss was a win for Burns at 31', with Whittington and Randolph tying at 28'.
 
Doug Mostyn, president of the SAAA, and athletic director Joe White were delighted with the weekend of Highland athletics and pleased to see the many athletes competing.
 
Special mention is given to Jarvina Routt, who set a world record in the woman's lightweight class in the light weight for distance at 72' 8".
 
Overall points
1. Kyle Lillie 17
2. Gary Randolph 23
3. Colin Dunbar 29
4. Sean Burns 42
5. Zechariah Whittington 45.5
6. Sean Smith 47.5 
7. Mike Baltren 48
 
Lillie and Randolph are both looking to turn pro within the next few months. The next in the IHGF All-American Highland Games qualifying series will be at the Pikes Peak Celtic Festival in Colorado, 15-16 June.
 
The Pro class featured seven athletes: Spencer Tyler, Andy Vincent, Nathan Burchett, Isaac Burchett, Matt Hand, Jon O'Neil and Eddie Brown, who was competing in his first season in the pro ranks and put up a good showing overall.
 
Tyler and Vincent lobbed some big putts in the 22-lb. Braemar stone, and when the dust settled, just inches separated the two, with Vincent taking the win at 44' 8". Tyler followed 42' 10-3/4" with Brown third at Brown 38' 8-1/2".
 
The 16-lb. open stone was close as well, but Vincent edged out Spencer 54' 4" to 53' 3". Brown trailed at 45' 9-1/2".
 
Tyler, the world record holder in the 28-lb. weight for distance, did not disappoint the crowds as he pulled out 93' 5". Second was Vincent at 78' 5-1/2" and third N. Burchett at 77' 3".
 
In the 56-lb. weight for distance again Tyler showed why he is number one in the world as he took his second win with a throw of 44' 9". Second and third repeated with Vincent at 41' 5-1/4" and N. Burchett at 38' 6-1/2".
 
Onto the hammers, Tyler prevailed in the 22-lb. with 98' 6", with N. Burchett second at 92' 4" and I. Burchett third at 90' 11-1/2". These three upheld their places in the 16-lb. hammer, with Spencer at 121' 8", N. Burchett at 117' 1-1/2", and I. Burchett at 112' 10".
 
In the caber, at 16' 3" and a 135 lb., three athletes did 12:00 tosses, but Vincent did two for the win, leaving N. Burchett in second and Brown in third on countback.
 
The 20-lb. sheaf was a three-way tie at 30', with the win going to I. Burchett on countback, with Tyler second and Vincent third. As an note, Tyler had a throw outside of competition that cleared the bar at 36' 7".
 
The opening height for the 56-lb. weight over bar was 14', and at 17" only Tyler and Vincent succeeded. They each cleared 18' and the bar was raised to 18' 6", which stymied them both, leaving Vincent in first on countback. Tyler was second, and Brown and I. Burchett tied for third at 16'.

Overall points
1. Spencer Tyler 16
2. Andy Vincent 20
3. Eddie Brown 34
4. Isaac Burchett 36.5
5. Nathan Burchett 39.5
6. Matt Hand 52
7. Jon O'Neil 54

                                                ###



You can also follow IronMind on Twitter, Instagram and on Facebook.                        



Want to talk grip, strongman, weightlifting . . . everything strength? Visit the IronMind Forum.