2017 SAWO Open Grip Competition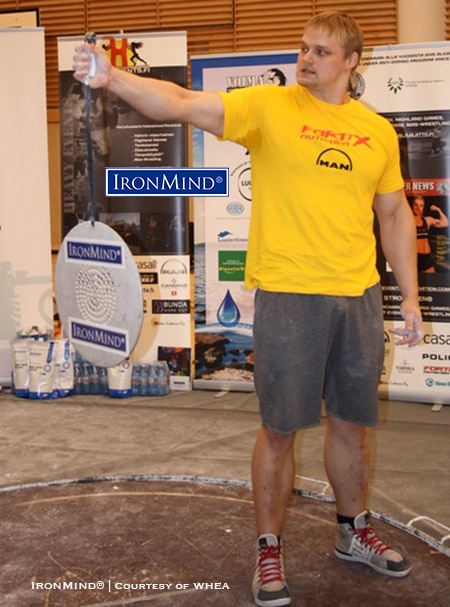 2017 SAWO Open Grip Competition

It looked promising on paper and the SAWCO Open Grip Competition proved its worth with a strong field, some close battles and a number of impressive performances.


2017 SAWO Open Grip Competition
by Jyrki Rantanen, WHEA

The organizing team (run by Jouni Mähönen) did a great job and the feats of grip were nicely performed in front of live audience as WHEA's SAWO Open grip competition was held in Iisalmi market square along with big party happening with multiple programs during the evening.


In the open weight category Finnish newcomer Jesse Pynnönen did solid work and kept world record-holder Harri Tolonen and Thomas Larsen (NOR) behind his wide back and in the -93kg category hometown hero Jouni Mähönen edged out the challengers.
Below you can find the final and event results.

- 93kg
1. Jouni Mähönen 6 p
2. Miika Lappalainen 17,5p
3. Niko Junnilainen 18p
4. Fenne Muhonen 19,5p
5. Tuomo Kärkkäinen 29p

Open
1. Jesse Pynnönen 12,5p
2. Thomas Larsen 17,5p
3. Harri Tolonen 18,5p
4. Tomi Tuomi 18,5p
5. Arto Joronen 23p
6. Petri Tapaninaho 36p

Rolling Thunder

-93kg
Jouni Mähönen 80kg
Miika Lappalainen 75kg
Niko Junnilainen 75kg
Fenne Muhonen 70kg
Tuomo Kärkäinen 60kg
Open
Jesse Pynnönen 102,5kg
Tomi Tuomi 100kg
Thomas Larsen 95kg
Arto Joronen 95kg
Harri Tolonen 90kg
Petri Tapaninaho 80kg

IronmMind Hub

-93kg
Jouni Mähönen 35kg
Niko Junnilainen 32,5kg
Fenne Muhonen 27,5kg
Miika Lappalainen 25kg
Tuomo Kärkkäinen 25kg
Open
Harri Tolonen 37,5kg
Jesse Pynnönen 35kg
Thomas Larsen 32,5kg
Arto Joronen 32,5kg
Tomi Tuomi 30kg
Petri Tapaninaho 27,5kg

IronMind Blockbuster Pinch Grip Block

-93kg
Jouni Mähönen 37,5kg
Niko Junnilainen 35kg
Miika Lappalainen 35kg
Fenne Muhonen 35kg
Tuomo Kärkkäinen 30kg
Open
Harri Tolonen 42,5kg
Thomas Larsen 42,5kg
Jesse Pynnönen 42,5kg
Arto Joronen 40kg
Tomi Tuomi 40kg
Petri Tapaninaho 32,5kg

Axle 60mm

-93kg
Jouni Mähönen 135kg
Miika Lappalainen 130kg
Fenne Muhonen 125kg
Niko Junnilainen 120kg
Tuomo Kärkkäinen 115kg

Open
Tomi Tuomi 165kg
Thomas Larsen 160kg
Jesse Pynnönen 160kg
Arto Joronen 150kg
Harri Tolonen 150kg
Petri Tapaninaho 130kg

IronMind Little Big Horn

-93kg
Jouni Mähönen 85kg
Niko Junnilainen 80kg
Miika Lappalainen 80kg
Fenne Muhonen 70kg
Tuomo Kärkkäinen 70kg

Open
Thomas Larsen 95kg
Jesse Pynnönen 95kg
Arto Joronen 95kg
Tomi Tuomi 90kg
Harri Tolonen 85kg
Petri Tapaninaho

CoC Silver Bullet Hold (Captains of Crush No. 3 gripper)

-93kg
Jouni Mähönen 43,08sec
Fenne Muhonen 20,17sec
Miika Lappalainen 18,10sec
Niko Junnilainen 17,44sec
Tuomo Kärkkäinen 7,12sec

Open
Harri Tolonen 36,25sec
Tomi Tuomi 29,01sec
Jesse Pynnönen 27,38sec
Thomas Larsen 24,01sec
Arto Joronen 15,34sec
Petri Tapaninaho ---
 
                                                        ###



You can also follow IronMind on Twitter, Instagram and on Facebook.                        



Want to talk grip, strongman, weightlifting . . . everything strength? Visit the IronMind Forum.