2017 Queen Mary Highland Games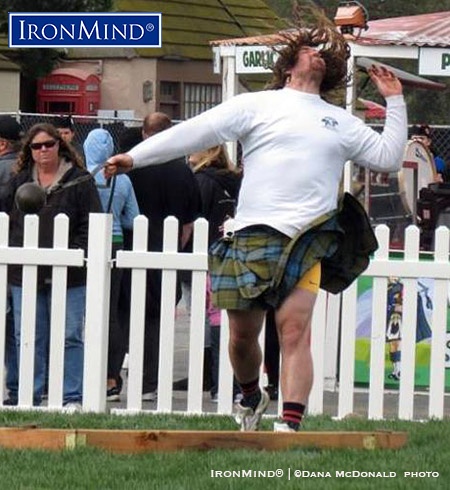 The 2017 California Highland Games season open with Queen Mary Highland Games and this also proved to be a coming out party for new heavy talent, Colin Dunbar.



Queen Mary Highland Games Open 2017 California Season
by Francis Brebner
President, International Highland Games Federation (IHGF)
 
The Queen Mary Highland Games, held in Long Beach, Southern California, signals the start of the Highland Games season in California. Despite a wet start to the first day's competition, more than 8,000 spectators came through the gates over the weekend and were entertained by the largest number of athletes—an impressive 111 in all—assembled at these games to date.
 
In the Amateur A division, new heavy Colin Dunbar, of Long Beach, California, known as the American Highlander because of his long hair and impressive stature and who stands at a towering 6' 8" at 320 lb., prevailed. At 28 years old, Colin, who comes from a track and field background, competed twice at the Olympic Trials in the wire hammer (2012 and 2014), and in 2016 he won the 35-lb. weight throw at the USATF Indoor Championships, with a distance 23.98 m (78'-7.5"). Dunbar made a huge impression on everyone, myself included, as I had never before seen someone with only four practice sessions make such an impact in his first Highland games and produce a good all-round performance, with marks that could hold up to most pro athletes.   
 
The Amateur A's competed in 8 events, starting with the 22-lb. Braemar stone put. Dunbar took the first win easily with 41' 2-1/2", followed John Anthony at 37' 2"; in third place was Sean Smith at 33' 4".
 
Dunbar secured his second victory in the 16-lb. open stone, launching a putt of 52' 5". In second once again was Anthony with 43' 11", with Carl Gurke in third at 42' 8".
 
In the 28-lb. weight for distance, Ben Stamps went head to head with Dunbar and came out marginally on top for the win at 71' 9", with Dunbar 2" behind at 71' 7". Mike Baltren took third at 66' 1/2".
 
In the 56-lb. weight for distance, Dunbar let rip with an impressive throw of 38' 6-1/4". Stamps was second at 32' 1-1/2" and Anthony third at 31' 10-1/2".
 
In the 16-lb. hammer, Dunbar was in a realm of his own, and despite wearing no hammer boots, he unleashed a mighty throw of 127' 11" for the win. Smith was second with a respectable 111' 11", ahead of third-place Anthony at 108' 3-1/2".
 
The 22-lb. hammer showcased a great series of throws by Dunbar all over 100', peaking with a best of 106' 7". Smith placed second at 87' 1-1/2" with Anthony third at 83' 6".
 
In the 56-lb. weight over bar, Dunbar showed overall strength and explosive power, owning the event with a height of 16", and on extra attempts coming close to clearing 17'. Baltren, Gurke, and Stamps cleared 14'.
 
The final event, tossing the caber, which was 14' 6" and 110 lb., ended in a tie between Bryan Staggs and Stamps, who both nailed 12 o'clock tosses; third-place Jason Spraggins also did a 12 o'clock toss—and just to mention Dunbar, he tried the caber for the first time in competition and pulled a toss of 11:55.

Dunbar liked his first games: "What an atmosphere! I had such a great time." SAAA president Doug Mostyn was delighted with the overall games and happy to see the largest number of entrants to date, including 24 novice athletes.
 
Amateur A Results
1.  Colin Dunbar         12
2.  Ben Stamps           28.5
3.  John Anthony       32
4.  Sean Smith            35
5. Carl Gurke              41
6.  Bryan Staggs        43.5  
7.  Mike Baltren         44
8.  Jason Spraggins   52
 

                                  ###



You can also follow IronMind on Twitter and on Facebook.                        



Want to talk grip, strongman, weightlifting . . . everything strength? Visit the IronMind Forum.