2017 Phoenix Highland Games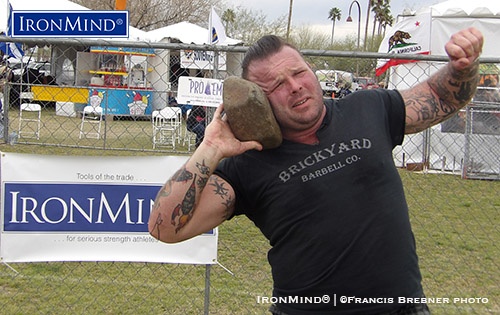 53 and going strong, the Phoenix Highland Games once again delivered impressive performances to a large crowd, IHGF president Francis Brebner reported to IronMind.
 
2017 Phoenix Highland Games
by Francis Brebner
International Federation of Strength Athletes (IHGF)
 
The Phoenix Highland Games celebrated its 53rd year of consecutive games with an impressive lineup of athletes, 115 in all over several classes, with several thousand spectators cheering them on as they watched records attempted and broken.
 
In the Amateur A division, new athlete to the games Eli Kiener, of Tucson, Arizona, put up a notable performance in his first A group games and the third games that he has ever competed in. Eli, a former college shot putter and football player, who stands 6' 2" and 290 lb., looked impressive and has a great future ahead of him in the sport of heavy athletics.
 
Starting with the 23-lb. Braemar stone put, Kiener went all out from the first round, head on with the familiar Eddie Brown in a riveting ding-dong battle. In the end the win went to Kiener marginally over Brown at 41' 7" to 41' 2". Third place was Sean Burns with 35' 2".
 
Kiener secured his second victory in the 16-lb. open stone, ripping out a put of 47' 10" for the win. In second once again was Brown at 46' 7-1/2", with Burns in third at 44' 7".
 
In the 28-lb. weight-for-distance, Brown was in a realm of his own, the only athlete over 70', with a first-place throw of 70' 6". Second place was a tussle between Matthew Steele and Bryan Staggs with Steele coming out on top at 63' 2-1/2" to Staggs's 62' 5".
 
Brown dominated again in the 56-lb. weight-for-distance with a superb throw of 37' 8". And again a clash for second place erupted between Steele and Staggs, with Steele prevailing at a distance of 30' 10", leaving Staggs in third at 29' 10".
 
In the 22-lb. hammer, Brown had to ramp it up, with Burns and Kiener snapping at his heels. Brown won the event with a throw of 93' 4", followed by Burns at a respectable 86' 10", and just inches behind, Kiener at 86' 8".
 
The 16-lb. hammer was another victory for Brown, who did 111". Burns was second with a best of 108' 7-1/2" and Steele third with 83' 6".
 
The 56-lb. weight-over-bar was an impressive show of overall strength and explosive power as Kiener and Brown topped out at 16'. Kiener took first on countback with fewer misses, so Brown was second, and in third, Burns at 15'.
 
The 20-lb. sheaf toss was another head-to-head encounter between Brown and Kiener, who both finished at 29' with Brown claiming the victory on countback to second-place Kiener. Staggs took third at 24'.
 
Only Brown pulled a 12 o'clock toss on the caber, which was 19' 9" and 97-lb. Second place went to Kiener on his final toss of 2:30, followed by third-place Steele with an 80-degree attempt.
 
Athletic director Michelle Crownhart called the games "fantastic," noting the perfect weather over the two days with large crowds, the three ground records established by Annikki Chamberlain in the woman's lightweight class, and the serious competition between Brown and newbie Kiener in the A group.
 
Kiener liked that the games are family-orientated and was happy to have his family with him, saying, "I now look forward to my next games in Las Vegas," where he will be competing in the first qualifying leg of the IHGF All-American Highland Games Series.
 
Amateur A results
1. Eddie Brown 12.5
2. Eli Kiener 24.5
3. Sean Burns  31
4. Matthew Steele 33.5
5. Bryan Staggs    35
6. Richard MacAndrew  52.5

 
                                  ###



You can also follow IronMind on Twitter, Instagram and on Facebook.                        



Want to talk grip, strongman, weightlifting . . . everything strength? Visit the IronMind Forum.