2017 IHGF European Highland Games Championships: Tulacek on Top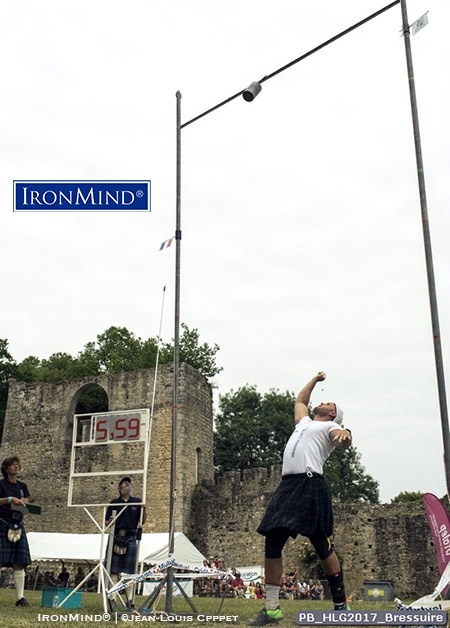 Vladimir Tulacek continued to impress as he handily won the 2017 IHGF European Highland Games Championships in Bressuire, France.
 
2017 IHGF European Highland Games Championships
by Francis Brebner
President
International Highland Games Federation (IHGF)
 
Bressuire, France hosted of the 2017 IHGF European Highland Games Championships, under the able direction of Jean Louis Coppet, president of L'Association des Jeux d'Ecosse en France (AJEF), and an amazing Highland Games committee. The perfect weather with blue skies and glorious sunshine, and the setting on the grounds of the Château de Bressuire, a ruined castle which dates back nearly 1,000 years, made a truly magical atmosphere. 



A total of four ground records were established in the pro class, which included nine athletes: Daniel Dorow, Germany; Hans Lolkema, Holland; Raynor Wortel, Holland; Rafal Kobylarz, Poland; Sebastian Wenta, Poland; Svavar Sigunsteinsson, Iceland; Vladislav Tulacek, Czech Republic; Jamie Gunn, Scotland; and Lorne Colthart, Scotland.
 
In the 17-lb. Bressuire open stone, Tulacek upped the ante in the final round with a rip-roaring putt of 55" 5-1/4" to surpass the ground record of 54' 8" held by England's Scott Rider. In a very respectable second place was Colthart at 51' 5", and in third Wenta at 48' 8-1/2".
 
Tulacek took the early lead in the 56-lb. weight for distance with a throw of 36' 7-3/4" but was overtaken by Wenta and then Colthart, who secured the win at 39 '9", followed by Wenta at 38' 5-1/2" and Tulacek at 36' 7-3/4".
 
The 16-lb. hammer resulted in great performances by Tulacek and Colthart, both going over 130', with Tulacek prevailing in the final round at 136' 3-1/4" to Colthart's 132' 11-1/2". Wenta clinched third at 123' 9, an inch ahead of Lolkema.
 
The caber, 19' 6" and 129-lb., was by no means easy as only three athletes managed to conquer this mighty stick. Fans roared as Tulacek triumphantly nailed 12:00. Wenta's second-place toss was 11:15, and Kobylarz took third with 2:00.
 
After day one, Tulacek led at 6 points, with Colthart and Wenta on 10.
 
The first day of competition concluded with the 56-lb. Coreff (Ale) keg over the bar challenge, and the record of 16' 7" was set by USAs Dan McKim at the 2015 IHGF World Highland Games Championships. Tulacek and Kobylarz both surpassed the ground record of 16' 7" to set a new world record height at 16' 8". They asked for the bar to be raised to 17' 2", then to 17'4" and finally to 17' 10', where Tulacek pulled off a new world record, with Kobylarz taking second at 17' 4".
 
On day two, Tulacek led the way in the 22-lb. Braemar stone for with a series of world-class putts over 40', with a best of 45' 1", surpassing the record set by Rider in 2015. Wenta pulled ahead of Colthart in the final round with 41' 9", leaving Colthart at 40' 2".

In the 28-lb. weight for distance, Tulacek took the early lead with a throw of 73' 1', which proved to be his best of the event. It was surpassed by Lolkema's winning throw of 76' 11", as well as second-place Wenta's at 75' 5" and third-place Colthart's at 74' 1". 
 
The 22-lb. hammer was a dinger of a battle between Tulacek and Colthart, with Tulacek snatching the win in his final attempt at 107' 9". Colthart lagged at 107' 1/2" and Dorow was third at 100'. 
 
The 56-lb. weight over bar was a high point of the competition, with a ground record at 16' 7" set by McKim in 2015. With Tulacek as the only athlete who cleared 16', the bar was raised to the new field record height of 16' 9', which he cleared on his first attempt, thrilling the spectators.
 
The Bouchain Bouvet-Ladubay 28-lb. cork putt, a challenge event, was won by Tulacek with a distance of 33' 10".
 
The final event was the IHGF European Caber Tossing Championships, and the caber, 20' 2" and 134-lb., was a tough opponent. Tulacek landed tosses of 11:55 and 11:10 to Kobylarz's 11:55 and 11:45. Lolkema was third with a 2:00 toss.
 
Final points
1. Vladislav Tulacek    13
2. Lorne Colthart         20
3. Sebastian Wenta     23
4. Hans Lolkema         32
5. Daniel Dorow          42
6. Rafal Kobylarz         51
7. Raynor Wortel        54
8. Jamie Gunn            58
9. Svavar Sigunsteinsson         67


                                                        ###



You can also follow IronMind on Twitter, Instagram and on Facebook.                        



Want to talk grip, strongman, weightlifting . . . everything strength? Visit the IronMind Forum.