2016 New York's Strongest Arm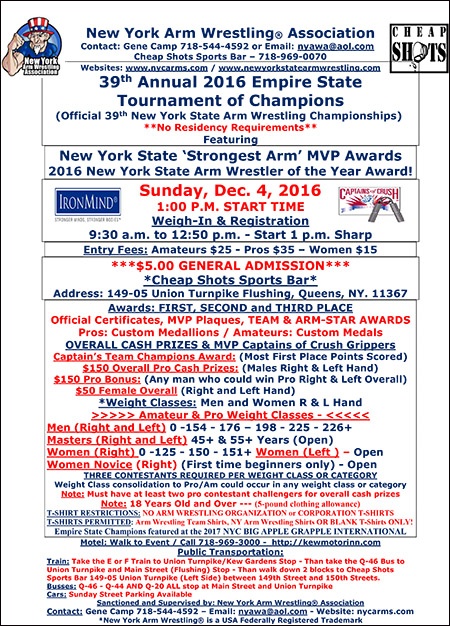 Think you've got the strongest arm in New York or want to see who does?

Then don't be a stranger to the New York Arm Wrestling Association (NYAWA) 39th Annual Empire State Tournament of Champions (Official 2016 New York State Arm Wrestling Championships) on Sunday, December 4, 2016.



Hosted and held at Cheap Shots Sports Bar in Flushing, the "competition is open to the public 18 years old and over and has no residency requirements. The proud sponsors are IronMind (Captains of Crush Grippers), Cheap Shots Sports Bar & New York Arm Wrestling Association.
 
"Over $3,000 in cash and prizes will be given out and over 100 men and women are expected to compete for the chance to be crowned New York State Strongest Arm.  The event is divided into right and left hand weight class categories for men and women in pro, amateur, masters 45+ and 55+ years old.
 
"The New York State Strongest Arm MVPs (overall male and female, right and left hand winners) receive cash prizes and awards are given for first, second and third place in all weight class categories. Teams will also compete, grouped by Borough, State, and Country, with a point tally to determine the winning team prize. Captains of Crush Grippers® will be presented to New York State overall winners.
 
"'The Empire State 'Golden Arm' Tournament of Champions is New York City's oldest and most prestigious sought-after title,' said Gene Camp, founder and president of the New York Arm Wrestling Association (NYAWA).

"'This event as the culmination of the 2016 NYAWA season and very exciting to watch because it is loaded with top talent locally, from all over the tristate area and far beyond.'" 


"Some of the city's best arm wrestlers are expected to compete—among them, the winners of the prestigious 2016 NYC Big Apple Grapple International and last year's 2015 Empire State Champions will also return to defend their titles in this multi-talented high profile arm wrestling championship. Since there are no residency requirements, contestants and teams are expected locally from the five NYC Boroughs, Long Island and from as far away as Russia, Brazil and Turkey and other foreign lands."
 
For more information, please visit the NYAWA website or NYAWA Facebook page or call 718-544-4592

                                      ###

You can also follow IronMind on Twitter and on Facebook.    

Want to talk grip, strongman, weightlifting . . . everything strength? Visit the IronMind Forum.