2016 Las Vegas Highland Games: IHGF All-American Qualifier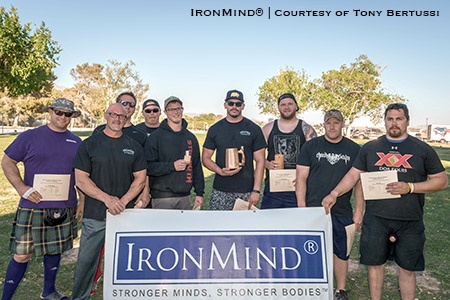 Las Vegas hosted the first leg of the 2016 IHGF All-American Highland Games qualifiers, where Eddie Brown and James Gilmer, by virtue of placing first and second, respectively, earned slots at the IHGF All-American Highland Games Championships.


2016 Las Vegas Highland Games
by Francis Brebner, IHGF
 
The 12th annual Las Vegas Highland Games this past weekend attracted large entries in the novice, women's, masters' and amateur men's A, B and C divisions, a total of 115 athletes over the two days of competition.
 
A highlight of the games was the A division vying for the first qualifying leg of the IHGF All-American Highland Games series, where the top two athletes with the most points would then qualify for a spot at the IHGF All-American Highland Games Championships, which will hosted at the McPherson Highland Games in mid-September. The 9-athlete lineup in the A group included Eddie Brown, Jacob Nicol, Matt Hand, Scott Farr, John Anthony, Chad Thompson, James Gilmer, Scott Chisholm, and Selby Brown.

Farr, who won last year's title of IHGF World Lightweight champion in Gyor, Hungary, has now moved up to the open class and has considerably increased his weight and strength overall. Farr, a former track and field athlete before competing in Highland games, put up a topnotch all-round performance, winning four of the nine events but losing vital points in the caber, which cost him the top podium finish and qualification for the All-American Championships in this first leg of the series.
 
In the 22-lb. Braemar stone, you could feel the electricity, and it continued throughout the competition. Farr dominated from the start and produced a best of 38' 7-1/2" for the win; second place was a scuffle, with E. Brown pulling out his best in the final round at 36' 8-3/4" to go ahead of Gilmer at 36' 7".

The 16-lb. open stone was amazing: all athletes went at it, with the lead changing hands in every round. Chisholm pulled it off in the final round with a best of 48' 2". Second place went to E. Brown with 47' 8-1/2", with Gilmer in third with a respectable throw of 46' 11-1/2". Farr, after two fouls, lobbed a canny throw of 46' 10-1/2" in relief to place fourth.
 
In the 56-lb. weight-for-distance, Farr remarkably took hold of the reins with a throw of 33' 7-1/2".  Second place was a close match, with Gilmer just pulling ahead at 32' 11", leaving Thompson in third at 31' 3".
 
The 28-lb. light weight-for-distance was a good event for E. Brown as he landed a nice series of throws with a best at 69' 10-1/2". Hand took second with 68' 9" and Nicol was third at 65' 3".
 
In the 22-lb. heavy hammer, Farr come back with all pistons firing and bombarded the field with a hail of class throws, with a best of 94' 9" for the victory. Hand come into his own as well, placing second at a distance of 91' 1" to third-place Chisholm at 90' 1".
 
In the 16-lb. light hammer, Farr once again opened up and sent the hammer sailing 119' 6" for a double whammy with back-to-back wins in both hammers; Gilmer was second at 118' 4" and Hand third at 116' 1-1/2".
 
The 56-lb. weight-over-bar was an impressive coup for E. Brown, who slugged it out with Gilmer, both clearing 16' and coming very close on 17'. E. Brown won on countback (fewer misses), leaving Gilmer in second. Both Hand and Anthony cleared 15", with Hand claiming third place on countback.

The caber toss, at 19' 4" and 125-lb., was dominated by E. Brown with three tosses and his best a 12 o'clock. Gilmer was second with 11:30 and Anthony third at 9:30.
 
In the final event, the 20-lb. sheaf-over-bar, Hand and Gilmer dueled mightily, ending in a tie at 29' and Hand taking the win on countback. Third place was a tie between Chisholm, Thompson and Farr.

Once all the points were tallied, E. Brown was the overall champion, and both he and Gilmer qualified for the IHGF All-American Championships at the McPherson Highland Games in September.
 
Final points:
1. Eddie Brown          29
2. James Gilmer           29
3. Scott Farr    30.5
4. Matt Hand              31
5. Scott Chisholm       44
6. Chad Thompson      50.5
7. John Anthony         54.5
8. Jacob Nicol 58
9. Selby Brown           78
 
Athletic director Gordon Lawes and SAAA president Doug Mostyn were delighted with the number of overall entries for the games and being part of the IHGF All-American Highland Games series.
 
The next qualifier in the IHGF All-American series is the Wichita Highland Games & Celtic Festival, 23–24 April, Wichita, Kansas.

                                                       ###

You can also follow IronMind on Twitter and on Facebook.                        



Want to talk grip, strongman, weightlifting . . . everything strength? Visit the IronMind Forum.