2015 Queen Mary Highland Games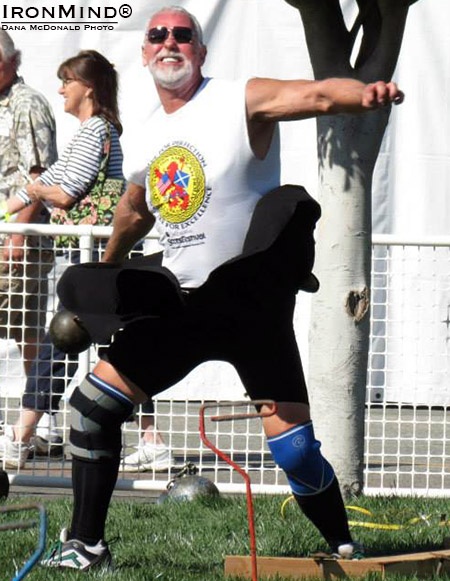 The Queen Mary Highland Games opened the 2015 California Highland Games Season and Francis Brebner called the action for IronMind.


2015 Queen Mary Highland Games
by Francis Brebner
 
The Queen Mary Highland Games, held in Long Beach, Southern California, signaled the beginning of California Highland Games season. More than 10,000 excited spectators were entertained as 96 heavy athletes engaged in two days of heated competition. The games also attracted many novice contestants, trying their hand at the sport for the first time.

In the Amateur A division, 11 athletes competed in 9 events, starting with the 22-lb. Braemar stone put. Edward Brown took the first win with a putt of 40' 5", followed Matt Hanley with 36' 5-3/4"; in third place was Matthew Steele with 34' 4-3/4".

Brown secured his second victory in the 16-lb. open stone, blasting out a putt of 48' 11", opting for the standing approach as opposed an open (rotating) style. In second once again was Hanley with 44' 5", with Steele just inches behind Hanley with 44' 1/4".

In the 28-lb. weight for distance, Brown notched up his third win with a best of 66' 9-3/4", followed by Steele at 59' 1/2" and Hanley at 58' 1-1/2".

In the 56-lb. weight for distance, Brown had to work hard for the win, finally successful with a distance of 32' 4".  Steele was second with 29' 8-1/2", and Chance Allard third with 28' 11".

In the 16-lb. hammer, Brown and Steele went head to head round after round with Brown marginally pulling off the win with 100' 4-1/2" and Steele just inches behind at 100' 1".  Derek McCracken was third with 99' 5".

The tables were turned in the 22-lb. hammer, with Steele taking the reins and stopping Brown's winning streak by pulling out a throw of 81' 5".  Brown was second with 78' 11-1/2"and Allard third with 75' 8-/12".

Brown and Brandon Kessler were in a league of their own in the 56-lb. weight for height, with Brown prevailing at a height of 15' 5" to Kessler's 15'. Hanley was third at 13'.

In the 20-lb. sheaf toss, Allard and McCracken tied at 24', with a four-way tie for third at 21'.

The final event, tossing the caber, which was 18' 6" and 110 lb., was won by Brown with a perfect 12:00 toss. Allard's toss of 12:30 earned him second place, with McCracken taking third at 85 degrees.

Master heavy Richard Campbell made a clean sweep, winning all nine events with an outstanding performance in the age 50-plus category, doing: 22-lb. Braemar stone 31' 3"; 16-lb. open stone 37' 5-3/4"; 28-lb. weight for distance 57' 5-1/2"; 42-lb. weight for distance 39' 8-1/2"; 16-lb. hammer 90' 6-1/2"; 22-lb. hammer 70' 10"; 42-lb. weight over the bar 16'; 16-lb. sheaf 29', and 16' 6", 78-lb. caber 12:00.
 
SAAA president Chuck McClain said that he was delighted with the large number of competitors and the high standard of performance from the athletic groups all around.
 
Amateur A
1.  Edward Brown      16
2.  Matthew Steele      32
3.  Chance Allard        34.5
4.  Matt Hanley           38
5.  Derek McCracken  40.5
6.  William Griffith     45.5
7.  Rich Wilson           63.5
8.  Brandon Kessler    71
9.  Adam Larson         78
10. Tom Jester             84.5
11. Andy Wooster     90.5
 
                                                          ###



Want to talk strength?  Join the IronMind Forum. 

You can also follow IronMind on Twitter and on Facebook.