2015 MHP SCL Finals Set for Turkey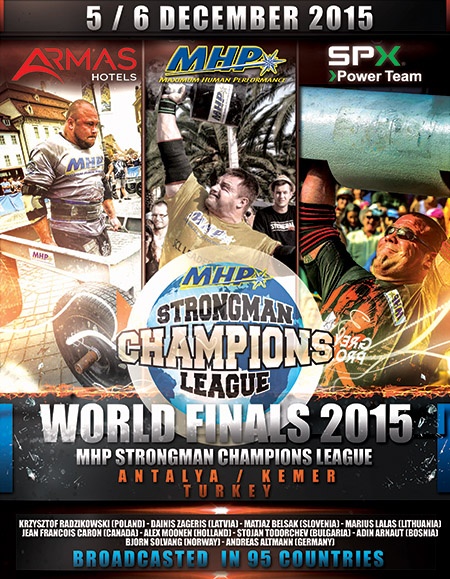 "The strongest men on the planet will come to Turkey on 5 and 6 December, to fight for the ultimate title, SCL World Champion 2015," Strongman Champions League Director Marcel Mostert told IronMind today.

"After 15 stages done world wide in the MHP Strongman Champions League, with the last one done in Martinique in October, the finals will gone happen in Antalya en Kemer, Turkey.
 
"Because of some organizing and weather problems in Malaysia, the SCL board had to find another location very quickly to hold their grand finals and to crown the world champion 2015


"It is a pretty big operation to set up the finals in just 2 weeks' time, but with the help of other good organizations and solid business relationships, SCL did this job remarkably well.


"So, the new world champion 2015 will be crowned at some great venues in Antalya and Kemer, with a total 10 finalists by the SCL ranking competing.


"Zydrunas Savickas (surgery last month) and Hafthor Bjornsson (filming duties in another location) couldn't come, unfortunately, despite the fact that they were in the top 10 ranking list.

"The other rule in SCL is that there will be only 1 athlete per country in the SCL finals, so these are the finalists for 2015:
Finalists

KRZYSZTOF RADZIKOWSKI –          POLAND                         
DAINIS ZAGERIS –                            LATVIA                            
MATJAZ BELSAK –                            SLOVENIA                                      
MARIUS LALAS –                              LITHUNIA                                                     
JEAN FRANCOIS CARON –             CANADA                          
ALEX MOONEN –                             HOLLAND                                      
STOJAN TODORCHEV-                    BULGARIA
ADIN ARNAUT –                               BOSNIA                           
BJORN SOLVANG –                          NORWAY                                       
ANDREAS ALTMANN –                    GERMANY

"The complete contest will be broadcast in 95 countries," said Mostert. "Don't miss it!"
 
 

                                                  ###



You can also follow IronMind on Twitter and on Facebook.                        



Want to talk strength?  Join the IronMind Forum.