2014 Queen Mary Highland Games
The Queen Mary Highland Games signaled the opening of the 2014 season, and with a crowd of 10,000 cheering them on, the heavy events were enjoyed by first timers and veterans alike, Francis Brebner reported to IronMind.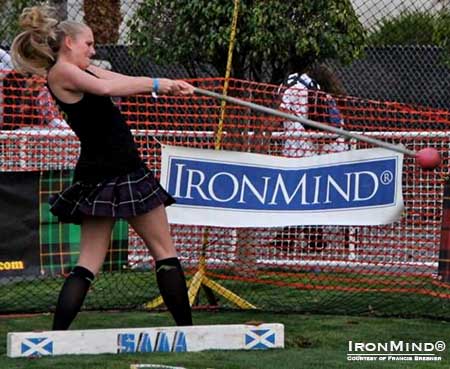 "Heather Lynn of San Diego, shown throwing the hammer, was one of the new athletes to the Highland Games," said Francis Brebner. IronMind® | Photo courtesy of Jaena Imboden


2014 Queen Mary Highland Games
by Francis Brebner

The Queen Mary Highland Games, held in Long Beach, in Southern California, marked the beginning of the very exciting Highland Games season. The Games drew more than 10,000 enthusiastic spectators over the two days of heavy events competition, and a total of 105 athletes signed up to give it their all, with more than two dozen novice contestants trying their hand at the sport for the first time.

In the Amateur A division, 14 athletes competed in the 9 events, starting with the 22-lb. Braemar stone putt. Edward Brown took the first win with a putt of 41' 3-1/2", followed Adam Breznia with 38' 10-3/4" in second and Jacob Nicol with 37' 11" in third.

After securing his first win and with confidence overflowing, Brown garnered a second win in the 16-lb. open stone, scoring a very nice putt of 49' 2", using the standing approach as opposed an open (glide or spin) style. Karl Gehrke placed second with 44' 9-1/2", with third place going to Patrick Colonnelli, well-deserved at 42' 8".

In the 28-lb. weight-for-distance, Nicol, the lightest athlete in the competition at only 220 lb., looked very impressive when he let loose a destructive throw of 73' 2", nailing the win. Second place was Breznia with 70' 7" and close behind in third was Gehrke with 69' 3-3/4".

In the 56-lb. weight-for-distance, you could feel the adrenaline oozing from Nicol as he whipped out a throw of 37' 10" to decisively secure his second victory, almost two feet farther than his next rival, Gehrke, at 36' 3/4". Breznia took third with a noble effort of 35' 1/2".

The fight for the overall continued into the 16-lb. hammer, and Brown took his third win, planting a throw of 115' 1". Breznia had to be content with second at 111' 3/4", and Jose McKinney followed with 108' 4-1/4".

The tables were turned in the 22-lb. hammer, with Breznia bringing on the heat and forging a superb distance of 93' 9" for his first win of the competition. In second was Nicol with 89' 11-1/2", and in third McKinney at 85' 11".

The 56-lb. weight-for-height was undoubtedly the highlight of the A class competition as Breznia showcased great technique and overall strength and explosive power as he cleared the bar at 17' for the win. Second place was a close battle between Gehrke and McKinney, who both astonished the group by clearing 16'. Gehrke was awarded second place on countback, and McKinney third.

In the 20-lb. sheaf toss, Breznia and Bryan Staggs shared top honors, tying at 25' for first place. Third was another tie, this one between McKinney and Gehrke at 22".

The final event, tossing the caber (18' 6" and 120-lb.), was won by Breznia, the only athlete to turn the stick with a best effort of 12:15. Second-place Brown and third-place Gehrke both had 70-degree attempts, with Brown placing higher on countback.

Athletic Director for the Games West Imboden and SAAA President Chuck McLain were delighted with the large number of competitors and the high standard of the performance from all the athletic groups.

Asking Breznia about his overall performance, he said, "This being the first games of the season, I am happy with my distances. I feel I have a lot more to give in my overall performance as the season gets underway. My goal is to compete in the IHGF World Amateur Highland Games Championships and turn professional within the next few years."

Amateur A: Overall
| | | |
| --- | --- | --- |
| 1. | Adam Breznia | 19.5 |
| 2. | Edward Brown | 29.0 |
| 3. | Carl Gehrke | 31.0 |
| 4. | Jose McKinney | 39.5 |
| 5. | Jacob Nicol | 42.0 |
###



Want to talk strength? Join the IronMind Forum.

You can also follow IronMind on Twitter and on Facebook.