2014 Olympia International Mas Wrestling Tournament
"My campaigning must be working—this is our biggest international tournament yet," Mas Wrestling USA president Odd Haugen told IronMind as he explained the mas wrestling tournament taking place in between events of the ASC strongman competition this weekend at the Olympia in Las Vegas.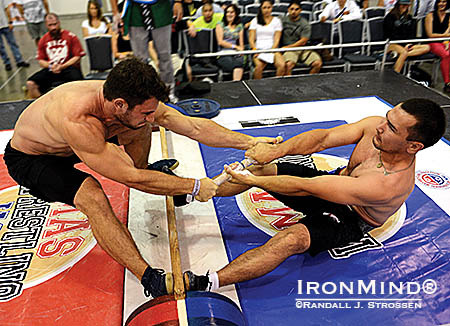 Sean Couch (left) mixes it up with mas wrestling world champion Alexandr Arinkin (right). IronMind® | Randall J. Strossen photo 




This will be an open category competition, by invitation only, and Haugen said, "We have competitors from Brazil, Lithuania, Russia, Ukraine, Estonia, and USA confirmed:



Markus Mannik – Estonia
Oleksandr Lashyn – Ukraine
Mark Felix – UK
Yuri Protopopov - Sakha, Russia
Lucas Machado – Brazil
Antanas Abrutis – Lithuania
Martins Licis – California USA
Jacob Finerty – California USA
Shawn Paul Couch – California USA
Clay Edgin –California USA
Jonathan Lane- Arizona USA
Otgomnunkh Pagvaasuren - Mongolia
Dan Moore - Oregon USA
Bronson Tiwanak - Hawaii USA
Evan Hansmann – California USA
Jerry Pritchett - Arizona USA
Casey Day - Iowa, USA

"There will be awards, sponsor gifts for competitors and US$5,000 in prize money: (1st place $1,500; 2nd place $1,000; 3rd place $800; 4th place $650; 5th place $550; 6th place $500)," said Haugen.

The action starts at 11:00 on Friday and continues through Saturday.

New to mas wrestling? Here are the rules.

###



Visit the IronMind Forum: talk strength, discuss this story. Strongman, grip, Highland Games, Olympic lifting, stones and more.

You can also follow IronMind on Twitter and on Facebook.