2014 McPherson Highland Games
The 2014 edition of the McPherson (Kansas) Highland Games continued in the strong traditional established over the years and IHGF CEO Francis Brebner called the action for IronMind.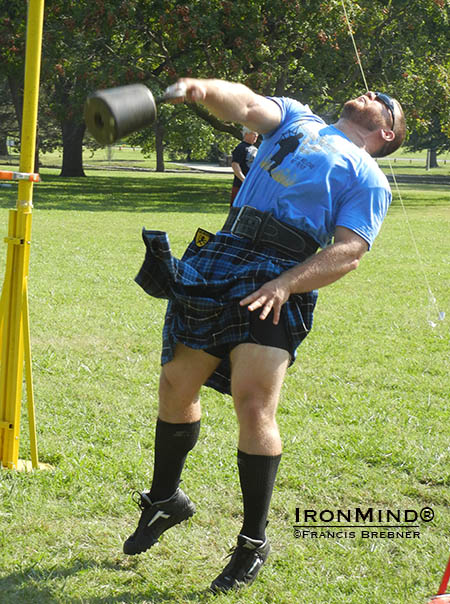 Jon Hereth's performance caught Francis Brebner's eye and Brebner marked him for the future: "Jon Hereth will be the new rising star of the future, I predict, if he keeps at it!" IronMind® | Francis Brebner photo





2014 McPherson Highland Games
by Francis Brebner

CEO, International Highland Games Federation (IHGF)

It was a record-breaking weekend at the 2014 McPherson Highland Games in McPherson, Kansas, yet another successful games for its acclaim. From opening until closing, the games were action-packed with pipe bands, Highland dancing, folk music, clans, and much more.

These games have a fascinating history—they were first started as an exhibition by former pro athlete Al Myers and have grown over the years into one of the leading games in Kansas under the guidance of athletic directors Dave and Gunner Glasgow and Larry and Terri Ventress. The first official year of the established games was 1994, and before that were many years of annual samplers (small evening shows) that Al Myers put on. The first year of the festival came together when the world annual McPherson clan gathering took place in McPherson, Kansas, and its success turned it into an annual festival, which has blossomed into one of the best games in the state of Kansas, according to Al Myers: "The first year we had many guys there who later turned into big names in the games, Ryan Vierra, Dave Brown, and Karl Dodge to name a few. Dave Glasgow and the Ventresses have done superb work in building the games the past several years, and each year they only get better."

The highlight of the weekend was the heavy events, with a total of 54 athletes taking part in 9 events over two days of heated competition with no fewer than 16 ground records.

On Saturday, a total of 28 athletes took to the field for the men's amateur A & B groups, the women's masters, and the women's amateur class.

In the men's A group, rising stars Jonathan Hereth and Skylar Arneson did battle, garnering four wins each. Arneson, who is competing in his second season of Highland games, has made a huge improvement over last year's throwing; and Hereth, who has been only training for the past eight months, was very impressive to watch in his overall performance. Both have a great future in the sport if they continue, that is for sure.

In the 22-lb. Braemar stone, Hereth and Arneson went at it round after round with mere inches separating the two, with Hereth coming out on top with a putt of 35' 6". Second place was Arneson at 35' 2" and third Matt Thompson at 32' 11".

In the 16-lb. open stone Arneson proved a force to be reckoned with as he blasted out a putt of 48' 10" for the win. Second was Hereth with 44' 10" and third Thompson at 39' 8".

The 28-lb. weight for distance was a very close contest once again, with Hereth pulling off his second victory with a throw of 68' 2", followed by Arneson at 67' 10" and Thomson at 65'.

In the 56-lb. weight for distance, Hereth threw a bomb of 32' 11" to secure his third win. Thompson came second with 30' 7" and Arneson third at 27' 4".

The hammers were very close between the two leaders, with Arneson winning the 16-lb. hammer with a throw of 105' 1" to Hereth's 104' 6". The 22-lb. hammer win went again to Arneson, but Hereth made him work for the winning distance of 87' 10", following close behind with 87' 5".

The 56-lb. weight over the bar was big event for Arneson as he delivered 14' 6", a personal best by over 2' 6", for the win. Hereth did 13' 6" and Thompson 12'.

The caber, measuring at 17' 10" in length and 135-lb., was won by Thom Van Vleck with a perfect 12:00 toss; Thomson was second with one 12:00 and Andy Stout third with 9:00.

The final event, the sheaf toss, was won by Thompson on countback at a height of 26', with Hereth second, also at 26' and Stout third, at 22'.

The crowds continued to be wowed in the lightweight class (under 200 lb.), with Jeremy Irvin setting a total of four ground records. His overall performance was outstanding: Braemar stone 31'; open stone 37' 5"; 28-lb. weight for distance 57' 11"; 42-lb. weight for distance 40' 1/4"; 16-lb. hammer 102' 11"; 22-lb. hammer 78' 4'; 42-lb. weight over the bar 14'; 16-lb. sheaf 25'; and a perfect 12:00 caber toss.

The women's masters 50-plus category was won by Terri Ventress, just recently back from the Masters World Championships in Inverness, Scotland where she won her third women's world masters title, who had a clean sweep of all nine events.

In the woman's 40-plus group, Melanie Mellinger put up a great performance as she added four ground records to her credit, winning eight out of nine events.

In the masters 50-plus division, Thom Van Vleck, also just back from the Masters World Championships where he placed third overall in his category, was in fine form, setting four ground records and winning all nine events.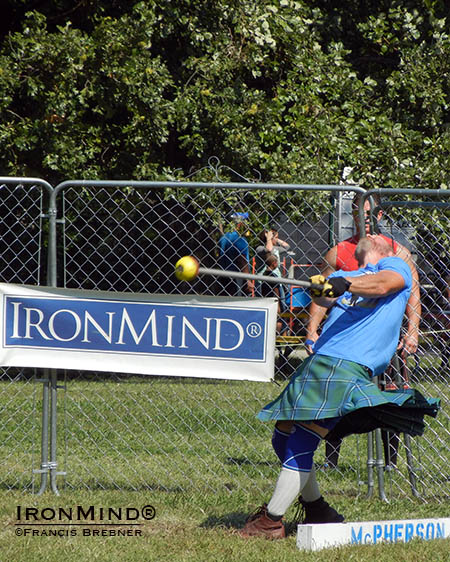 MILO author Thom Van Vleck was a standout in the Masters +50 division. IronMind® | Francis Brebner photo

###

Want to talk strength? Join the IronMind Forum.

You can also follow IronMind on Twitter and on Facebook.