2014 Luzarches Highland Games
Twenty-six Highland Games athletes from France, Germany, Belgium, Netherlands, and Scotland made up three group classes that faced off in Luzarches, which is in Île-de-France, near Paris. The Association Sportive de Luzarches (ASL) was the first club of throwers in France, established in the early 2000. This top event always attracts a large crowd as it is held at the end of the season, traditionally the last weekend in September.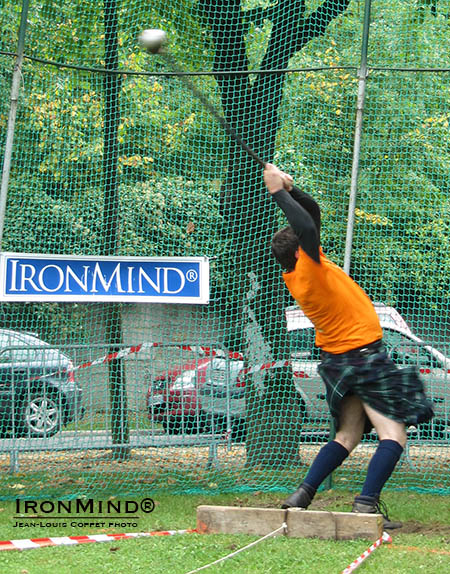 Scotland's Bruce Aitken on the hammer. Jean-Louis Coppet photo


The open class featured a fierce competition between two renowned Scottish throwers, Stephen King and Bruce Aitken, both of whom have held the world record for hammer throwing in their heyday.

Aitken took the win in the 16-lb. light hammer event in a fabulous clash with King, who went all out. King managed a best of 130' 2-1/4", with Bruce claiming the victory with 132' 4-1/2".

In the B class group, Dutch athlete Anne Van der Molen proved to be the strongest contender in the group. During the competition, the French athletes were recorded and ranked along with their other performances during the season, confirming that Cyrille Boucher, of ASL, is the current best French thrower of the 2014 season.

A total of ten athletes made up the team division, which resulted in ASL Luzarches member Marc Lahaie claiming the overall. Second place was Philippe Mignet, who is from the Bressuire AJEF Bocker club of throwers.

Jean-Louis Coppet, president of L'Association Sportive des Jeux d'Ecosse (AJEF), said that now three clubs have been identified in France—Luzarches, Bressuire, Saint-Michel-sur-Orge—and the likelihood of new, promising clubs keeps growing as more young heavy events athletes come into the sport: "I can only see a bright future for Highland Games as it continues to grow in France." He added: "This is all good news as close links are being established between other heavy events organizers across Europe."

reporting by Jean-Louis Coppet and Francis Brebner

###





Want to talk strength? Join the IronMind Forum.

You can also follow IronMind on Twitter and on Facebook.