2013 StrongFit Worlds: Australian Qualifiers
"The Australian Qualifiers for the Strongfit World Championships will take place the end of this month in five locations Australia wide to establish the performance levels of athletes for entry for this event, the qualifying format and grading scale to qualify for this event uses the four standard events in strongman being Yoke Walk, Log Lift, Deadlift and Farmer's Walk to pre-qualify strength levels prior to this event," according to an official statement by Bill Lyndon and sent to IronMind today.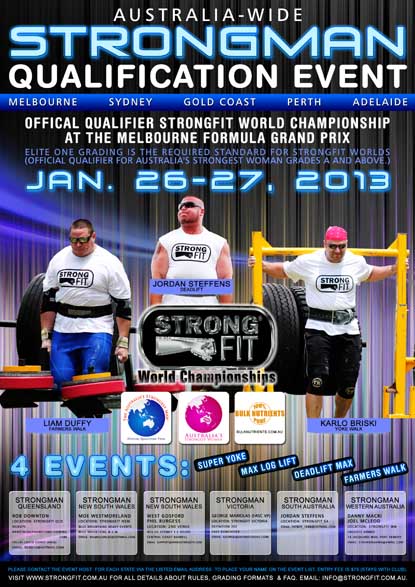 StrongFit announced its Australian qualifiers for the 2013 StrongFit World Championshps. IronMind® | Courtesy of Bill Lyndon/StrongFit.


"The StrongFit World Championships are very interested to get other countries on board for this event with invitations already accepted from South Africa and New Zealand, we would like to extend invitations to strength Athletes in the Northern Hemisphere to come down and challenge the southerners for this World Championship event.

"The StrongFit Worlds will take place at the Australian Formula One Grand Prix over a four day period from 14th to 17th March with four divisions U90 –Open Women's –U105 and Open Men's. The events for this event are Viking Press, Yoke Walk (Car Walk for H.W. Mens), Axle Dead Lift, Farmer's Walk and Stones, with all weights set at Elite One grading standard via StrongFit's six division, seven grade system .

"The history of the StrongFit Grading system came about because in Australia we have great distances between capital cities with Brisbane and Perth separated by 6,000 kilometres which is totally impractical and expensive for athletes to travel so far to a location to qualify for events. Now that we have established this system it can be transferred to other countries where StrongFit hosts can stage Strength Quest's via the Grading System using the rules formats as set out on the StrongFit web site. This give athletes worldwide an opportunity to measure their strength levels with athletes across the globe without having to leave their home town.

"As there are no official standards for strongman worldwide I would like to invite all training groups, established federations and strongman promoters to test this format in the coming year in attempt to pre-qualify athletes using this very simple method of pre-qualification of athletes for all strongman events where distance is an impediment," said Lyndon.

###

The IronMind Forum: discuss this article, talk strength, get help with your training.

You can also follow IronMind on Twitter.