2013 Finland's Strongest Man, Woman
"Today started with the Finland´s Strongest Woman contest for 2013 and the fresh Scandinavian Champion Kati Luoto took her 7th national title, taking only 3 of the six events," Jyrki Rantanen reported to IronMind.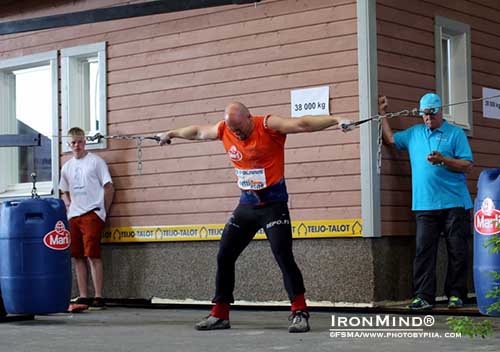 Under 105 kg and overall points winner Janne Hartikainen in the Hercules hold. Behind Janne is the house the ladies pulled, all 38,000 kg of it.. ©Finland´s Strongest Man Association/www.photobypiia.com.


"Second spot was Alina Leisiö, with better event placing than the newcomer Sonja Ekdahl, who tied the points with Alina.

2013 Finland's Strongest Woman
1. Kati Luoto 38 pts.
2. Alina Leisiö, 25 pts
3. Sonja Ekdahl 25
4. Anniina Vaaranmaa 21.5 pts
5. Jaana Tanner 21.5 pts
6. Leena Nurminen 19 pts
7. Ida Pohjanlehto 18 pts

"In men´s finals, the 105´s started the day and there was good battle behind the 3-time World Champion Janne Hartikainen, who now took his 8th lightweight national championships title.

2013 Finland's Strongest Man: Under 105-kg Class
1. Janne Hartikainen 101 pts
2. Juha Keskinen 87 pts
3. Mika Nikkonen 84 pts
4. Jyrki Rantanen 77 pts
5. Marko Valo 70 pts
6. Paavo Paaso 64 pts

"In Open class Jarno Jokinen edged out Mika Jaakola by better placings and took his third title in a row.

2013 Finland's Strongest Man: Open Class
1. Jarno Jokinen 56.5 pts
2. Mika Jaakola 56.5 pts
3. Pedro Karlsson 55.5 pts
4. Jarno Kirselä 54 pts
5. Patrick Wretdal 44.5 pts
6. Harri Peltomaa 38 pts

"And as a test we introduced an overall title, where all the results were counted together from both days, with both classes and for 2013 the overall top three were:

2013 Finland's Strongest Man: Overall Title
1. Janne Hartikainen 157 pts
2. Pedro Karsson 153 pts
3. Mika Jaakola 153 pts

"In total we had 21 men and 7 women competing and the race was the tightest ever as there were so much ties, one-second differences,etc. . . . something that the over 1000-people crowd enjoyed.

"The competition was held in Teijo-Talot Oy house building factory in Perniö, Finland and this awesome arena with the opportunity to pull a house is the location for next year's contests also," said Rantanen.

### 



The IronMind Forum: discuss this article, talk strength, get help with your training.

You can also follow IronMind on Twitter.