2013 Finland's Strongest Man Qualifiers
"Finland's strongest man qualifications are over and the action continues tomorrow, for both the men's and women's classes," Jyrki Rantanen reported to IronMind today.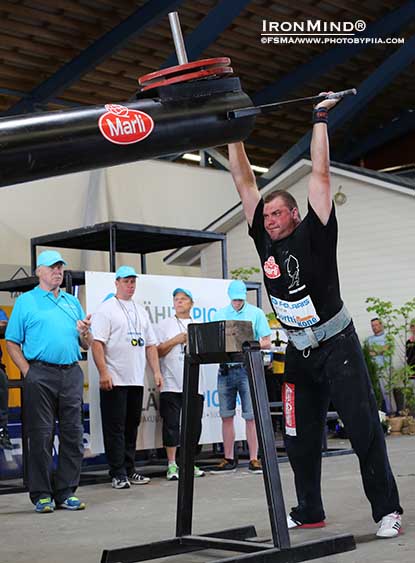 Mika Jaakola, shown on the Viking Press, is pushing defending champion Jarno Jokinen very hard in the open class of the 2013 Finland's Strongest Man contest. IronMind® | ©Finland's Strongest Man Association/www.photobypiia.com


Here are the qualifiers for the men's finals tomorrow:


Open Class

Jarno Jokinen
Mika Jaakola
Pedro Karlsson

Jarno Kirselä
Patrick Wretdal

Harri Peltomaa


105-kg Class

Janne Hartikainen

Juha Keskinen

Mika Nikkonen 

Jyrki Rantanen 

Paavo Paaso

Marko Valo

"In the qualifiers, last year's champions are in the lead and Hartikainen has a strong grip for the win, but in the open class, Mika Jaakola is breathing down the neck of Jokinen," Rantanen said. 



### 



The IronMind Forum: discuss this article, talk strength, get help with your training.

You can also follow IronMind on Twitter.