2013 California's Strongest Man
"California's Strongest Man of 2013, which was contested this past weekend at Huntington Beach, was nothing short of fantastic, from the lightweight to heavyweight class," Francis Brebner reported to IronMind.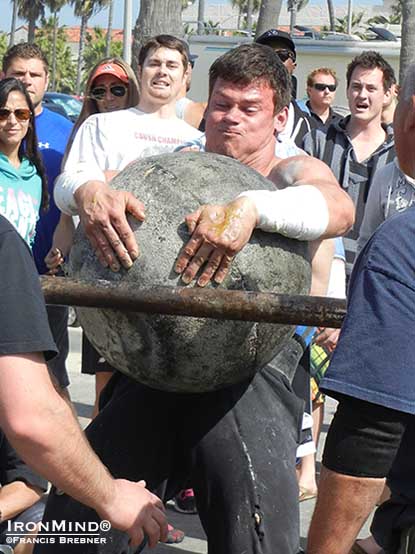 Third place in the heavyweight class, Martins Licis has been tagged as a guy with a great future in strongman. IronMind® | Francis Brebner photo.


"The heavyweight class came to the last event between Sean Demarinis and Casey Garrison on the Atlas stones. Both men claimed four successful lifts over a bar height of four feet plus with the 400-lb. stone, with the title win going to Sean Demarinis.

"Both Sean Demarinis and Casey Garrison are on the verge of moving up to the next level in sport of strongman that is for certain. Look out also for Martins Licis, a protege of Odd Haugen, who was very impressive and has a great future in the sport of strongman.

"This event was promoted by Pro Strongmen Scott Brengel, Cameron Gardner and Erik Peterson and powered by East Coast/West Coast Strength Speed & Conditioning with the help of California's legendary strongman team, The Freak Factory. This is the 11 year anniversary of the longest running strongman show on the West Coast and the 5th year hosting the contest next to the ocean in Huntington Beach, in front of hundreds of spectators with competitors from five states and two countries," said Brebner.

Lightweight: Top Three
1. Chris Burke (ECWC Strongman Team)
2. Aaron Heid
3. Ty Roberts

Heavyweight: Top Three
1. Sean Demarinis (ECWC Strongman Team)
2. Casey Garrison (ECWC Strongman Team)
3. Martins Licis

### 



The IronMind Forum: discuss this article, talk strength, get help with your training.

You can also follow IronMind on Twitter.