2013 All-American Strongman Challenge
Don't let the name confuse you because this well-established strongman contest is open to all qualified comers, and the 2013 field includes such top internationals as Mark Felix and L.P. Jean—so whatever their nationality, the All-American Strongman Challenge will once again bring a top strongman contest to the Los Angeles Fit-Expo.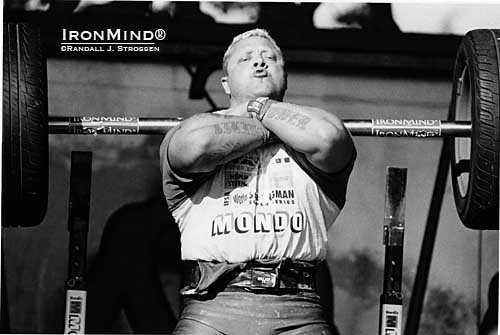 Strongman history: It was the 2002 IFSA Super Series Finals in Hawaii and 2001 World's Strongest Man winner Svend Karlsen was one of three competitors to front squat the winning three reps with 500 lb. on an IronMind Apollon's Axle (the other two were Mariusz Pudzianowski and Zydrunas Savickas). IronMind® | Randall J. Strossen photo.


Also, big news on the American side is that Dave Ostlund will be staging his comeback, and his fellow World's Strongest Man competitor Nick Best will be there, along with Chad Smith, Robert Oberst, Dan Harrison and James Rude. Contest organizer Odd Haugen said that Brian Shaw might be competing as well, but the 2011 World's Strongest Man winner won't be able to confirm either way for just a little longer.

Haugen said he'll be bringing back the front squat, ten years since it appeared in one of his strongman contests in Hawaii, and while it will not use an Apollon's Axle, the 1-1/2" in diameter bar is somewhat thicker than normal and it has fixed wheels on it that are +30" in diameter, Haugen estimates.

The total weight is 550 lb. and the event is for reps. Haugen said. "If you just looked at the weight, you would not think this would not be so hard, but this will be very tough," Haugen said.

The loading event will also present a fresh face as all but the last object will have to be carried, first, and then loaded.

"We've got some new young guys and some of the best guys in the world, so this is a very strong field," said Haugen.

Please visit the LA FitExpo site for the full schedule of events at California's top fitness expo and follow this link for all the details on the 2013 All-American Strongman Challenge.



### 



The IronMind Forum: discuss this article, talk strength, get help with your training.

You can also follow IronMind on Twitter.