2012 IronMind Summer Flyer
It's that time of year—barbecues, the beach and . . . the summer IronMind catalog, and this year, the theme is Adventures in Training.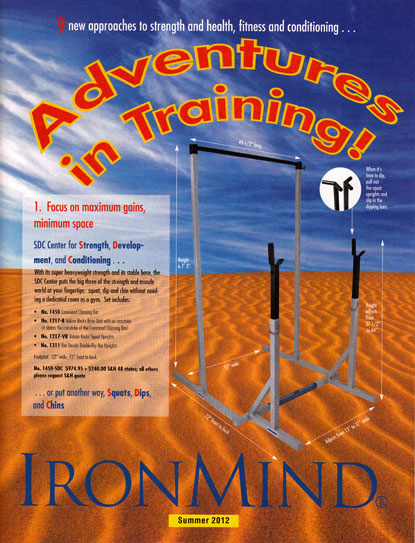 The 2012 IronMind Summer Flyer is here: Adventures in Training for everyone who wants to get stronger. All your IronMind favorites such as Captains of Crush Grippers, MILO, Vulcan Racks, Just Protein, Strong-Enough Lifting Straps and many more. Image copyright IronMind Enterprises, Inc.


So, whether you're short on space, want to train outdoors, are a gripaholic, are bulking up or trimming down, and if getting stronger is your goal, IronMind has the tools to help you get the job done right.

Catalogs are in the mail to all current customers and if you check the IronMind e-store tomorrow, you'll see a few new products and dollar-stretching deals:

• several new Grip Strength Mix and Max packages for devastating levels of grip strength

• summer special MILO offer—3 issues for price of 2

• you've seen the CoC Silver Bullet Disc . . . now you can get one for yourself if you'd like

• if you think Today is a Good Day to Train, we'll put the message on your chest.

Be part of the adventure: set some training goals for the Summer of 2012 and then have some fun chasing them down.

###

The IronMind Forum: discuss this article, talk strength, get help with your training.

You can also follow IronMind on Twitter.