2010 World's Strongest Man Invitations: All Eyes Turn to Giants Live - Poland
A chance to compete in the World's Strongest Man contest is the hottest invitation in strongman, so as the 2010 contest draws closer, the big question is, "Who will be there?" Talk about putting added heat on the top strongman competitors who will be squaring off at the upcoming Giants Live-Poland contest.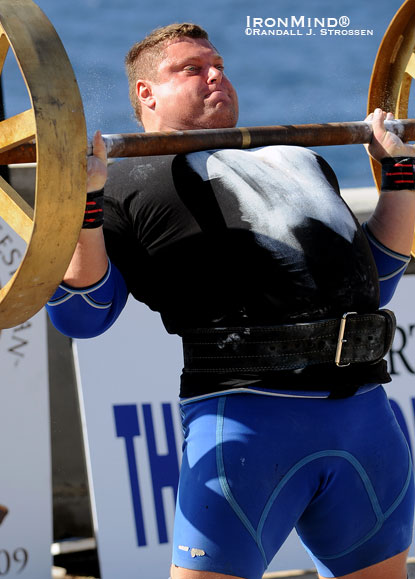 Lithuanian strongman Zydrunas Savickas, the 2009 World's Strongest Man winner, is expected to be the man to beat again in the 2010 edition of World's Strongest Man contest. IronMind® | ©Randall J. Strossen.



Giants Live is the official qualifying tour for the World's Strongest Man and here's a summary of who has qualified so far.

From Giants Live–South Africa, it's Brian Shaw, Misha Koklyaev, and Terry Hollands.

Derek Poundstone, Laurence Shahlaei and Johannes Arsjo made the cut at Giants Live–Kiev.

Zydrunas Savickas, Terry Hollands and Mark Felix qualified at Giants Live–Wembley (Europe's Strongest Man).

That's a total of 8 so far, since Terry Hollands had qualified twice, although at this point, it's not certain whether he will have recovered from his torn biceps in time to be ready for World's Strongest Man 2010. Zydrunas Savickas, by virtue of being the defending champion, would have been invited back regardless.

One last chance remains for making it to World's Strongest Man 2010 via Giants Live as the fourth stop in this strongman tour is coming up in Poland on August 7.

Among the top competitors slated for Giants Live–Poland are Darren Sadler (UK), Stefan Solvi Peturrson (Iceland), Arild Haugen (Norway), Agris Kazelniks (Latvia), Alexander Klushev (Russia), Vidas Blekaitis (Lithuania) and Jarno Hams (Holland). So this will add three more names to the invitation list.

Also guaranteed invitations to World's Strongest Man 2010 are the top five from Strongman Champions League, the other premier strongman tour, so that would bring the numbers to the range of half of the expected list.

Who will get the highly-coveted remaining invitations?

Following tradition, they will go to strongman competitors who produced what might be termed "favorable international results," along with a certain number of wild cards, and, yes, there likely will be some intense negotiations as the final slots are filled.

Most important, though, is the feeling that once again, there's little likelihood of the right person not being there: As someone with outstanding credentials in the field told IronMind®, "The World's Strongest Man is not going to sit home—he is going to be there."


Want to talk strength? Join the IronMind® Forum!

You can also follow IronMind® on Twitter.