2010 Waipu Highland Games
New Zealand continues its tradition of opening the New Year with the Waipu Highland Games, a venerable event now in its 139th year.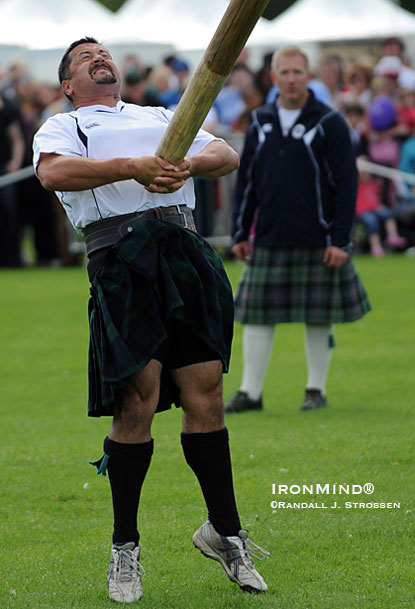 New Zealander Pat Hellier, a top Highland Games competitor, will have plenty of fans supporting him at the Waipu Highland Games on New Year's Day. IronMind® | Randall J. Strossen photo.

Francis Brebner filed this report with IronMind®, profiling the Waipu Highland Games


2010 Waipu Highland Games
by Francis Brebner

The Waipu Highland Games of New Zealand will celebrate its consecutive 139th year on 1 January 2010, without a break, making it one of the oldest games in the southern hemisphere.

These Games are considered by the Whangarei District Council as "one of the most iconic events" in all of Northland, and are the largest Highland Games in the whole of New Zealand.

In the past, Waipu has been the host of the IHGF World Heavy Events Championships on two occasions, in 1996 and 2000, and is considered by the IHGF and many of the athletes who have competed there to be the number-one ranked Games internationally.

Waipu is also the home of the annual New Zealand Highland Heavyweight Championships, which has been won by its own local hero Pat Hellier no fewer than thirteen times straight.

Pat, now at the age of 38, only seems to be improving like a fine wine. Pat represented his country at this year's World Championships in Edinburgh, Scotland and placed sixth overall. If he were to win the title for a fourteenth time, he would not only rewrite history again, but would also secure himself place in next year's IHGF World Heavy Events Championships, which will be held in Victoria, Canada, the weekend of 22–23 May 2010.

The Waipu Highland Games and the team lead by chairman Don Ewen and the many volunteers are ready for another great Games. These premier Games are attended by New Zealanders from all over the country, who come to compete in piping, drumming, Highland dancing, athletics and heavy athletics and have a very strong field of athletes from not only New Zealand, but also Australia and Scotland.

The Waipu committee is also delighted that Dame Catherine Tizard has graciously agreed to open the 139th Waipu Caledonian Highland Games, especially as Patron of the Clan MacLean Association of New Zealand, for which we are doubly pleased as Clan MacLean has been elected as the host clan for the 139th Games. This is an honor that the Waipu Caledonian Society bestows on clans that have supported the Games over the years.