2010 Pacific Weightlifting Association (PWA) Championships
Bruce Wilhelm isn't without his accomplishments: world-class in three Olympic sports, third-place on total in weightlifting at the 1976 Olympics, winner of the first two World's Strongest Man contests, and star of the sitcom that sprang to life in his old store each time the UPS driver made a delivery.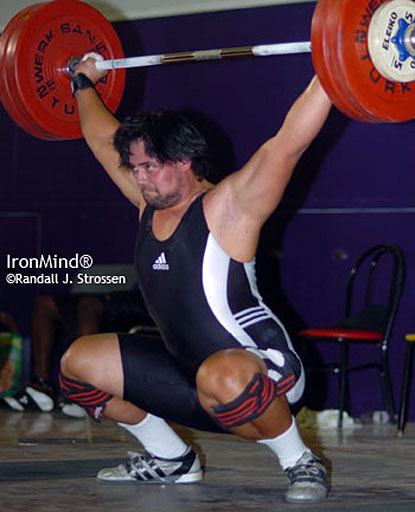 Brian Wilhelm - another young PWA weightlifter on the rise. IronMind® | Randall J. Strossen photo.


Bruce Wilhelm can also be counted on to call a spade a spade and he doesn't suffer fools, or liars, gladly - especially when it comes to lifting weights. Thus, it's not surprising that the Big B is a man whose compliments tend to hover around Paul Anderson, Pat Casey and Ken Patera; and that he's not easily taken by charming bluffers who might have lifted like bodybuilders but then spun themselves into King Kong.

So when Bruce Wilhelm says of a lifter, "He's doing pretty good. I think now, watching him train for a few months, that he has the potential," it warrants your attention.

"What'd you say, Bruce: the potential, or the potential?"

"The potential."

Asked for numbers, Wilhelm declines. "Schmitz is his coach. Ask him."

Schmitz, of course, is Jim Schmitz, just the person you'd entrust your son to if your son wanted to see how far he could get in weightlifting and you wanted his coach to be someone with the proven ability to take lifters to the top.

And that's what Bruce Wilhelm did, because the lifter he was talking about is his son, Brian, and Brian Wilhelm will be among the weightlifters competing at the 2010 Pacific Weightlifting Championships.

Sure, you can expect all the charm of a local meet, set in Northern California and ably hosted by Hassle Free Barbell Club and Sacramento High School, but this is local lifting with a twist because when you are talking about the Pacific Weightlifting Association (PWA), you are talking about the home of many of the sport's leading figures - the PWA has produced top athletes, coaches and administrators, among others.

Mark your calendar for January 30: come lift, load, coach, take pictures or just enjoy the lifting and chatting with other weightlifting fans.