2010 MET-Rx World's Strongest Man: Grand Finale
Sun City, South Africa – The 2010 MET-Rx World's Strongest Man contest ended today in what was called the closest finish ever.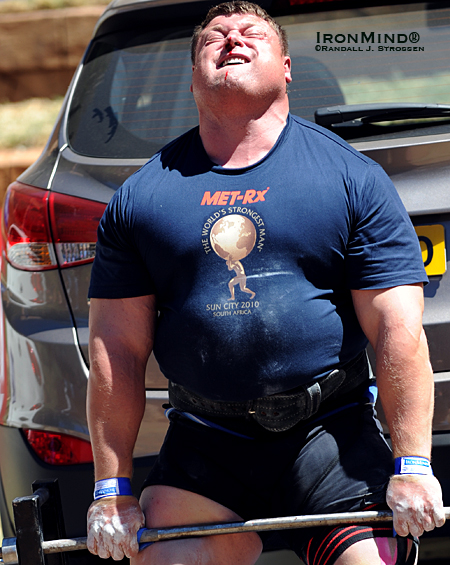 2009 World's Strongest Man winner Zydrunas Savickas drew blood on the Car Deadlift, defending the biggest title in strongman. IronMind® | Randall J. Strossen photo.


This year's competition incorporated such classic strongman feats of strength as the overhead lift with a genuine log, which produced a new world record, and with such a talented field of competitors it was nearly inevitable that the finish would be extremely close.
The race proved so close that the title was still up for grabs going into the last event.

This produced a tremendous battle featuring top competitors . . . Zydrunas Savickas, Brian Shaw, Misha Koklyaev . . . in a classic World's Strongest Man event, the Atlas Stones.

The 2010 MET-Rx World's Strongest Man contest is filmed for subsequent broadcast, so watch the official World's Strongest Man website for the TV schedule in your area.

###


Want to talk strength? Join the IronMind Forum!

You can also follow IronMind on Twitter.