2009 World Weightlifting Championships: An Yong-Kwon Wins the Supers
Goyang, Korea - Setting the stage for the +105-kg category at the World Weightlifting Championships, without Matthias Steiner or Eveginy Tchigishev in the field, it was seen as possibly becoming a three-horse race featuring Saeid Ali Hosseini (Iran), Viktors Scerbatihs (Latvia) and An Yong-Kwon (Korea).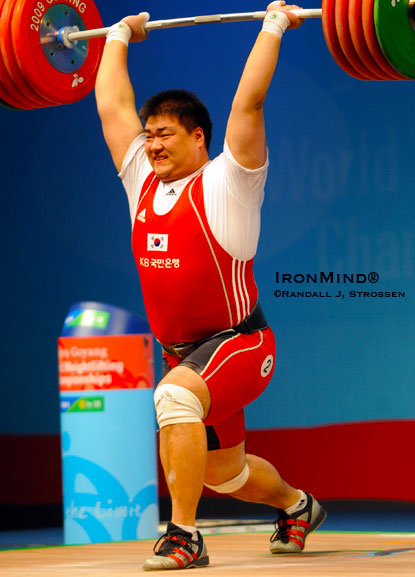 An Yong-Kwon punched this 247-kg jerk overhead to win the supers at the World Weightlifting Championships. IronMind® | Randall J. Strossen photo.


When Saeid Ali Hosseini pulled out - with a reported elbow injury - the focus shifted to two lifters, and when Scerbatihs snatched poorly and then withdrew, the door had been opened for Korea to rack up another big win.

Ihor Shymechko (Ukraine) won the snatch with 202 kg, with his teammate, Artem Udachyn, getting the silver with a 200-kg success. Korea's An Yong-Kwon had only made one good lift, 198 kg, but it was good enough for the bronze medal.

After the preliminary clean and jerks cleared the way, top honors came down to a duel between An Yong-Kwon and Artem Udachyn. Udachyn made 238 on his second attempt, to move into first in both the jerk and the total, and An Yong-Kwon responded with 240, to leapfrog over Udachyn. Udachyn returned the favor when he was successful with 245 on his third attempt. Thinking that it was no time to break the pattern, An Yong-Kwon replied with a good 247, much to the delight of the Korean fans who had filled the hall.