2009 Highland Games European Championships: Preview
This weekend, the International Highland Games Federation (IHGF) European Championships will be held in Bressuire, France - an uncommonly beautiful setting for a sport that is anything but a stranger to scenic settings.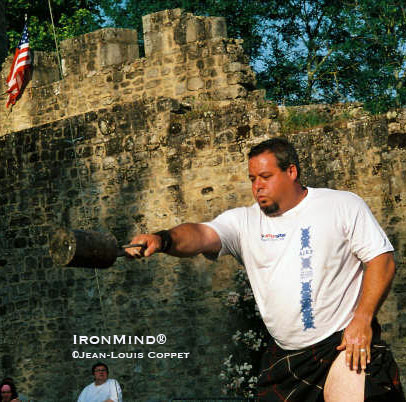 In what might be a perfect setting, five-time Highland Games World Champion Ryan Vierra throws the 56-pound weight for height in Bressuire, France. IronMind® | Jean-Louis Coppet photo.

Francis Brebner has filed this special report with IronMind®, setting the stage for this weekend's competition.

Bressuire Highland Games

By Francis Brebner

In what can only be called one of the best locations for a Highland Games, the Bressuire Games are set in the grounds of a walled 1,000-year-old old inhabited castle that is surrounded by a moat, with the nicest of scenery and views.

The stage is set for this year's IHGF European Championships in Bressuire, France, which will prove to have the best lineup of European athletes ever assembled for the championships. Representing countries will be Holland, Belgium, Scotland, England, Norway, Iceland, France and Switzerland.

The Bressuire Highland Games have come along way since the first Games were established in 2001 in an exhibition of the traditional heavy events to a crowd of 2,000 spectators. This initial effort then led to a full-blown Highland Games being hosting in 2003 for the IHGF European Championships, which was a smash hit.

To date, Bressuire attracts a gate of over 8,000 spectators to its Games and is still growing in size. Jean-Louis Coppet, the main organizer, is expecting as many as 10,000 spectators at this year's event. Big name stars like Stephen King, Gregor Edmunds, Scott Rider, and Tommy DeBruijn, will be battling it out over the two-day event, which will be held 13 - 14 June 2009.

David Webster, OBE has done a great job again in securing the best athletes to compete in this year's European Championships and shows no sign of slowing down. He is also preparing what can only be described as the biggest gathering in recent times with the 2009 Homecoming, including the IHGF World Championships in Edinburgh, Scotland, 25 - 26 July. This vast event will prove to be spectacular, I am sure, and it will be opened by royalty and filmed for TV.