2009 Glasgow Highland Games
Larry Brock battled it out with Kerry Overfelt at the Glasgow, Kentucky Highland Games last weekend, and Francis Brebner called the action for IronMind®.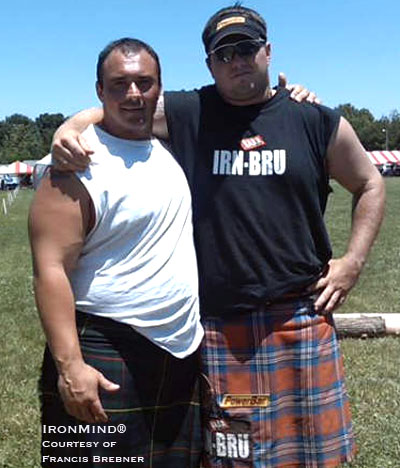 Kerry Overfelt (left) and Larry Brock (right). IronMind® | Photo courtesy of Francis Brebner.


2009 Glasgow Highland Games
by Francis Brebner

This past weekend's Glasgow, Kentucky Highland Games saw over 15,000 spectators each day entertained with some of the finest throwing so far this season with a real ding-dong battle between Larry Brock and Kerry Overfelt.

Both days had perfect conditions for throwing far—and throw far they did. In the opening event with 17-lb. open stone, Craig Smith took the win with a putt of 50' 2"; in second was Brock with 48' 7" and in third Overfelt with 48' 5".

The 28-lb. weight for distance was won by Overfelt with a throw of 84'. In the 56-lb. weight for distance, Overfelt showed some real world-class distance, throwing over 45' 5" for the win, which left Brock in second with 43' 2" and Smith in third with 37' 1-1/2".

The 22-lb. hammer proved a real seesaw battle between Brock and Overfelt, with Overfelt coming out on top once again with a winning distance of 111' 1-1/2"; Brock took second with 110' 4" and Chris St. Clair took third with 102' 7-1/2".

Going into the last event of the first day's competition, the caber toss, with an implement 20' long and 130-lb., it was Overfelt who sealed the final win with a 2:30 and a 10:00 o'clock toss; in second was St. Clair with a 10:00 o'clock toss and in third was Brock with a 2:30 toss.

In the second day of competition, in the weight over the bar Overfelt kept up his winning streak by taking the event with a height of 18' 6". Brock had to settle for second place with 18', and once again St. Clair was in third place at 16'.

The 20-lb. sheaf toss was again won by Overfelt in yet another dominating performance, at a winning height of 31'. Brock took second at 29' and St. Clair third at 27'.

Going into the 16-lb. hammer, it was much the same, with a real clash between Brock and Overfelt, but this time the win went to the Brockstar, at a distance of 139' 10-1/2". Overfelt was just inches behind at 139' 4", and in third place was Mark Valenti at 128' 7".

The final event was the 22-lb. Braemar standing stone putt. After a hard-fought competition it was won by Mark Valenti with a putt of 39' 11-1/2"; in second was Overfelt with 39' 10" and in third Brock with 38' 1".

Overall points:

1. Kerry Overfelt 13
2. Larry Brock 19
3. Chris St. Clair 30
4. David Lyttle 50
5. Craig Smith 6 (retired after 4 events with injury)

A special note must be added about Kerry Overfelt, the worthy winner of the Glasgow, Kentucky Highland Games, who showed some world-class performances all round. Look out for Overfelt as a future contender in the World Championships.

Also it must be added that Larry Brock has been suffering from a hip injury this season, and from what I witnessed at Costa Mesa and after hearing the distances recorded by Brock this past weekend, he looks to be well on his way to a full recovery. Brock did mention that he was happy with his throwing and the way his plans are going for the World Championships in Edinburgh, Scotland in late July. We're looking forward to seeing the Brockstar there in action.