2009 GNC Grip Gauntlet: FitExpo and the Arnold
For all you grip guys and everyone else who wants to test their grip while having fun and getting to meet Wade, Karl and Brad Gillingham, mark your calendar and train hard.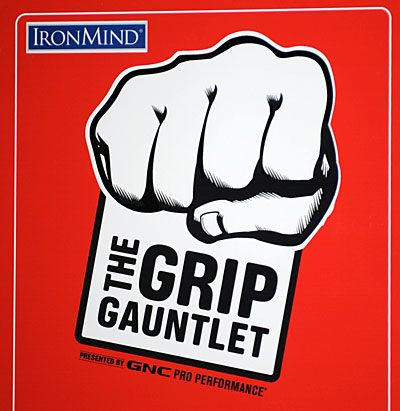 The GNC Grip Gauntlet - test your grip strength and have fun at the same time. IronMind® | Randall J. Strossen photo.


Presented by GNC Pro Performance, The Grip Gauntlet is in a class by itself in the grip world - a contest that is at once fun and decisive, with the kind of events, widespread participation and history to make it extra meaningful, and since it's held in conjunction with some of the world's largest fitness expos, everyone who participates in it gets the bright lights treatment.

In the past, GNC has provided a $100 GNC gift card to anyone who can meet the challenge of successfully completing all three challenges (Captains of Crush® Gripper, Rolling Thunder® and the Blob), but regardless of those details for 2009, you can count on the GNC Grip Gauntlet kicking off its 2009 tour with stops at The FitExpo and at the Arnold, so train hard, make your plans and we'll see you the GNC Pro Performance booth at the FitExpo and at the Arnold.