2009 Canada's Strongest Man: Who Will Win?
Canada's Strongest Man contest is this weekend and while IronMind® does not have this officially from World's Strongest Man, tradition would have us predict that the winner of this big Canadian strongman contest will receive an invitation to the preeminent event in the field, the World's Strongest Man contest.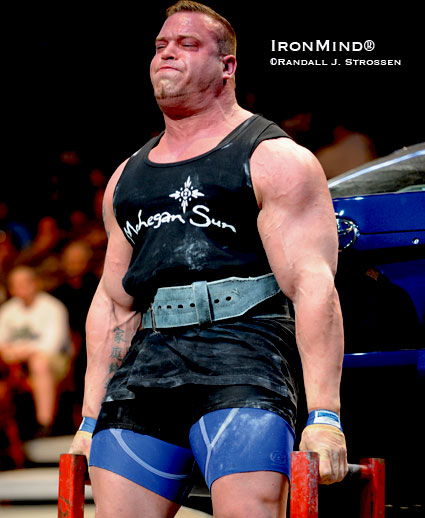 Louis-Philippe Jean on the deadlift at the Giants Live - Mohegan Sun strongman contest earlier this year. IronMind® | Randall J. Strossen photo.

The Canada's Strongest Man contest is scheduled for Québec City, August 22 - 23, and it is part of Expo Québec, "which is a big fair . . . very popular . . . with many activities mostly dedicated to the family," Ms. Geneviève Caron, Communications Consultant for Montmagny, Quebec told IronMind®. "According to the insiders, the favorite athletes are Jean-François Caron, Christian Savoie and, of course, last year's champion, Louis-Philippe Jean."

As an added boost to the defending champion, Louis-Philippe Jean, Montmagny Mayor Jean-Guy Desrosiers explained for IronMind® the special status accorded Louis-Philippe Jean by his local community:

"We are proud to support Louis-Philippe Jean through his aims in the strongman world. Montmagny has 'adopted' Mr. Jean, 2008 Canada's Strongest Man, almost one year ago. Then he became an ambassador of his kind and we wish him the best for this year's Canadian Strongman Championships."

It's a lot of pressure to put on his broad, but young shoulders and LP (as some of his friends call him) told IronMind®, "Canada's Strongest Man of 2009, makes me a little bit more nervous because now I have to protect my title and my career. You know it's all based on a small thing, so if you break it, everything is going down. For this year, I'm going to weigh a lot again! I'm now weighing 330 pounds . . . stronger than ever, but not as lean as I was at Mohegan," referring to the Giants Live - Mohegan Sun strongman contest earlier this year that was an official World's Strongest Man qualifier. "All the events are going to be a 3 - 4 guy race again . . . I have to be strong!"

Here are the events:

Deadlift Hold
Squat for Reps
Atlas Stones
Power Stairs
Truck Pull
Viking Press for Reps
Tire Flip
Medley

And this is the list of athletes slated to start:

Christian Savoie
Louis-Philippe Jean
Paul Vaillancourt
Grant Connors
Scott Cummine
John Dungey
Jean-Francois Caron
Mike Saunders
Franky Bonneau
Chris Harper
John Moerike

For full information on Canada's Strongest Man, please visit the official Canada's Strongest Man website.

And for updates throughout the weekend, watch our News column and follow us on Twitter.