2009 Arnold Sports Festival: Committee Chairpersons Meeting
Columbus, Ohio - They might be part of the transportation team, or maybe they are a physician or the chairperson of one of the many sports on the program of the world's largest multi-sport fitness expo, but what they had in common was brimming enthusiasm and a commitment to make the 2009 Arnold Sports Festival the best ever.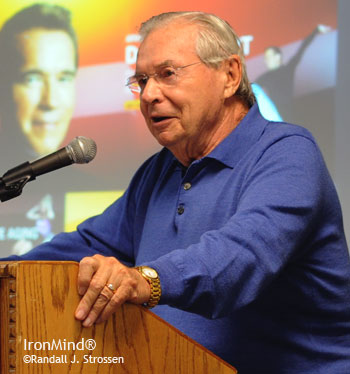 Jim Lorimer - the man who created the Arnold Sports Festival - addresses the committee chairpersons meeting. IronMind® | Randall J. Strossen photo.


On the strength side of things, USAPL president Dr. Larry Maile said that after its successful debut at the 2008 Arnold, USAPL was looking forward to returning to the 2009 Arnold with the same four events: pro deadlift, pro bench press, raw three-lift meet, and American pro invitational. Dr. Maile also mentioned the USAPL's interest in expanding its raw competition.

Megan Tornstrom DeFourny reported on Columbus Weightlifting Club's plans for its ever-growing competition, which is adding a masters' competition to its plate this year, complimenting its existing competitions for juniors, seniors and youths.

Dr. Randall Strossen summarized the dramatic rise of Matthias Steiner to Olympic weightlifting champion this year, and reported on IronMind®'s plans for presenting the 2008 German men's Olympic weightlifting team - featuring Matthias Steiner - on the main expo hall stage on Saturday afternoon, March 7. Steiner is the reigning Olympic super heavyweight gold medalist in weightlifting, which Strossen explained gives him historical claim to the title of being "the strongest man in the world."

From arm wrestling to sumo, the 2009 Arnold Sports Festival has something for just about every strength fan, and for full details, please visit the Arnold Sports Festival's official website.