2005 Strongwoman World Championships
With a star-studded field of former World's Strongest Woman competitors, the inaugural Strongwoman World Championships have just been officially announced.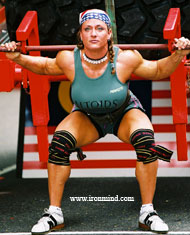 Jill Mills on her way to winning the 2002 World's Strongest Woman contest (Kuala Lumpur, Malaysia). IronMind® | Randall J. Strossen, Ph.D. photo.
Jill Mills, Shannon Hartnett, Aneta Florchek, Julie Dunkley, Anna Rosen, and Heini Koivuniemi - all former World's Strongest Woman competitors - have been invited to the 2005 Strongwoman World Championships, scheduled for July 13-14 in Glenarm, Northern Ireland.

Two more competitors will be selected, said Douglas Edmunds, Ph.D., who, along with David Webster, OBE, is organizing the contest.

Although strongwoman is relatively new and undeveloped compared to strongman, each of the competitors already named to the starting field comes with notable credentials: Jill Mills, for example, is a two-time World's Strongest Woman winner, Shannon Hartnett is a ten-time Highland Games world champion, and Heini Koivuniemi has excelled in both strongwoman and fitness contests.

The events have yet to be named, but given the involvement of Edmunds and Webster - both of whom have led the charge in strongman and strongwoman contests - every expectation is for a well-designed, well-run contest.