Mark your calendars for June 11th because that's when the 2005 AOBS dinner will be held and it promises to be even better than ever.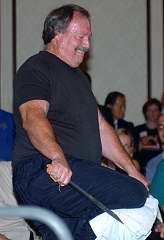 John Brookfield lays into a steel bar at the 2004 AOBS dinner. IronMind® | Randall J. Strossen, Ph.D. photo.
AOBS president Artie Drechsler said that one of the things that will be added to next year's dinner is a strength-testing event that will allow "the top [traditional] strongmen to perform under official conditions." This approach will allow these guys to not only get full credit for what they do, but it will also lend a level of legitimacy to some feats of strength that might otherwise have been lacking.

The 2005 dinner will be at the Saddle Brook, New Jersey Marriott, once again, so plan to be there. For details on AOBS and to join, please visit their website.