15-Year Old Gyu-min Lee Certifies on the Captains of Crush No. 3 Gripper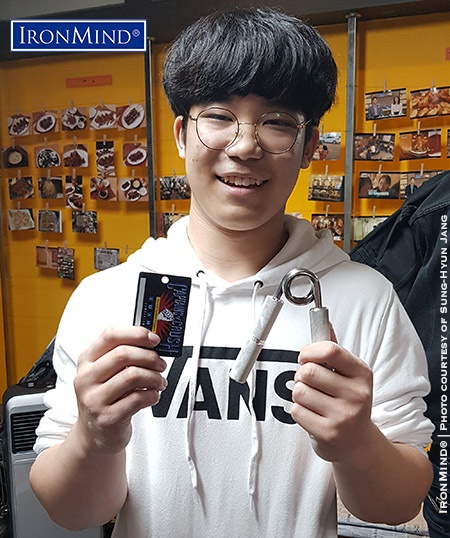 Anytime someone closes a Captains of Crush No. 3 gripper under official conditions and is certified it's big news in the strength world, but when it's a teenager—in this case a mere 15-year old—it's sensational, and that's what Korean gripster Gyu-min Lee has just done.

Such is the talent of this young man that he's accomplished this world renown certification not just at the age of 15, but after having only trained with Captains of Crush grippers for "about a year and a half. I heard about them from a friend and could close the CoC No.. 2 the first time.

"I train ever daty or every other day. I warm up with a weak gripper before training [and] then I do negatives with heavier grippers, and i close grippers, Gyu-min Lee told IronMind.

Gyu-min Lee modestly describes himself by saying, "I am an ordinary student of Korea," but he adds that he has lofty goals: "I want to close CoC [Captains of Crush] No. 4 this year, and I and to be the best gripster in Korea before I become an adult."
Here is a video of of Gyu-min Lee closing a Captains of Crush gripper under official conditions, and here is another view of that attempt.

Congratulations, Gyu-min Lee: it's official and you have just been certified on the Captains of Crush No. 3 gripper! IronMind would like to particularly thank Sung-hyun Jang and Jae-uk Mun (Red Nail '12) for their assistance in translating and refereeing, allowing this historic feat of grip strength to be officially recognized. Nice work, gentlemen!

In recognition of  Gyu-min Lee being certified on a Captains of Crush No. 3 gripper as a teenager, IronMind is contributing US$500.00 to the Jesse Marunde Educational Trust Fund.

                                                ###



You can also follow IronMind on Twitter, Instagram and on Facebook.                        



Want to talk grip, strongman, weightlifting . . . everything strength? Visit the IronMind Forum.