105-kg Strongman: Record-Breakers' Meet
Ilkka Kinnunen is putting on a record-breakers' meet for 105-kg strongman, and he has invited the top five competitors from the last 105-kg Strongman World Championships, he told IronMind® today.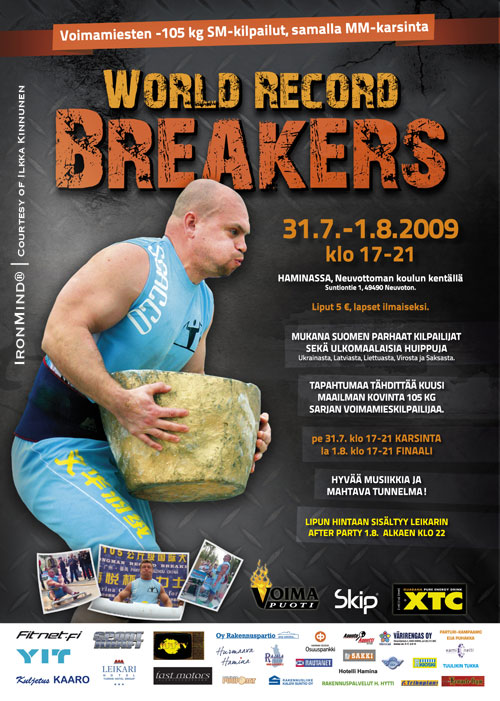 Strongman isn't just for giants - that was Ilkka Kinnunen's idea when he led the charge in 105-kg strongman contests. IronMind® | Artwork courtesy of Ilkka Kinnunen.


The contest is two days, July 31 and August 1, "in South Finland Neuvoton, near Hamina City," Kinnunen said, and it is organized by Voimapuoti.

Here is the list of competitors:

Janne Hartikainen (Finland)
Sergii Koniushok (Ukraine)
Alvidas Brazdius (Lithuania)
Maris Rozentals (Latvia)
Gert Gorsanov (Estonia)
Top two from UK
The German champion

Here are the events, by day, along with the record, where available (provided by Ilkka Kinnunen):

Day 1:

Medley: sack loading, farmer's walk, tire flip
Log for max (record: Patrik Baboumian, 162.5kg)
Farmer's walk: 120kg/70m (record: Fouad Hsaini, 38.28sec.)
Arm-over-arm pull

Day 2:

Car walk
Deadlift for reps
Conan wheel
Atlas stones (record: Janne Hartikainen, 100 kg, 120 kg, 140 kg, 160 kg, 180 kg in 30.5sec.)

Ilkka Kinnunen and Jani Kolehmainen are the referees and none other than two-time World's Strongest Man winner Jouko Ahola - now an actor who has appeared in more than a handful of movies - will be the announcer.