'05 Pleasanton: Shannon Hartnett's Last Games
She has dominated women's Highland Games competition for over a decade, and with 13 US titles and ten consecutive world championships under her belt, Shannon Hartnett is retiring after competing in Pleasanton, California over the upcoming Labor Day weekend.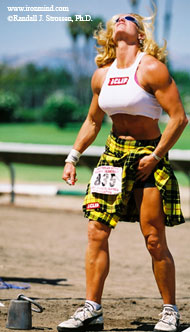 Looking for a hole in the sky, Shannon Hartnett gets ready to blast the weight for height (Pleasanton, California). IronMind® | Randall J. Strossen, Ph.D. photo.

Shannon Hartnett's athletic accomplishments are hardly limited to the Highland Games, as she has also distinguished herself in things as diverse as bodybuilding and bobsledding.

A crowd favorite, Hartnett will be throwing both days of the competition, September 3 - 4, and she will be honored in the grandstand area, the site of some of her greatest throws, on the afternoon of September 4, said Games Athletic Director Steve Conway.

This is the 140th Annual Scottish Gathering and Games presented by the Caledonian Club of San Francisco, Russell Cramer said. "It is America's oldest and largest Scottish Games, and some years, it is the world's largest Highland Games."