The Svend Karlsen Viking Power Challenge is set for July 7, 2007, so forget about a mere 007 and know that this 0007 will be a big one in strongman.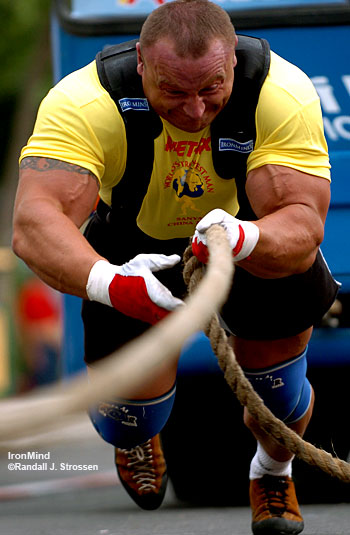 Considered by most to be the top overall strongman in the world today, Mariusz Pudzianowski, shown churning up the pavement in the bus pull at the 2006 MET-Rx World's Strongest Man contest, will be competing at the 2007 Svend Karlsen Viking Challenge. IronMind® | Randall J. Strossen, Ph.D. photo.

"We will be very selective in who we choose, only ten in total," Svend and Lene Karlsen said, adding that Mariusz Pudzianowski and Jarek Dymek have already signed. The top two competitors from Norway's Strongest Man will also qualify.