$10,000 to the Winner: SCL Canada Is Ready to Rock
"With four athletes out of the top six from World's Strongest Man competing and 16 top athletes in total, the set is ready for a new chance to Zydrunas [Savickas] or Terry [Hollands], Laurence [Shahlaei], Hafthor [Julius] Bjornnson or Ervin Katona to get another big title: the SCL Canada," Marcel Mostert told IronMind today.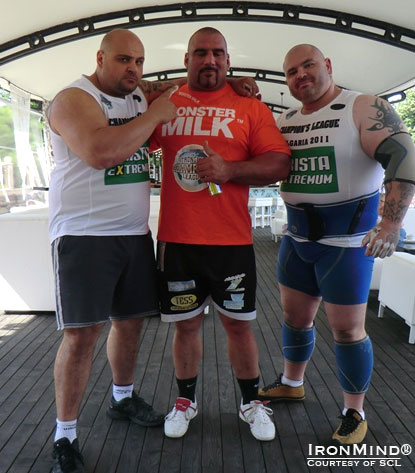 Laurence Shahlaeia and Ervin Katona and are among the top strongman competitors who just finished the World's Strongest Man contest and are turning their attention and their muscles to SCL–Canada next. IronMind® | Courtesy of SCL.



"But also the first-place prize ($10,000 for the winner), the SCL Canada Cup and beautiful special gifts will make this contest for sure an unforgettable one for the athletes.

"The Monster Milk Strongman Champions League grows further to a fully professional league, with a decent ranking system, with the best athletes in the world and a wide broadcasting [base of] close to 70 countries.

Summarizing the format of SCL–Canada, Mostert said, "In four days, we will do 10 events in 4 different cities."

"For those who can not make it to Canada, they can see the 8th Stage of SCL on Eurosport this coming Friday, when the the SCL Canary Islands will be broadcast at 22:00 hours [10:00 p.m.].

"Meantime we do our best to make the SCL Canada a great happening for all our strongman fans and athletes. Stay tuned for the daily results, beginning at 29 September, on IronMind," said Mostert.
And for full details about the upcoming SCL Canada contest, please visit http://www.strongmancanada.com or http://www.strongmancl.com.

###

The IronMind Forum: discuss this article, talk strength, get help with your training.

You can also follow IronMind on Twitter.