Team USA Arrives at Mas Wrestling World Championships
"I just wanted to send a quick note your way about our trip to Yakutsk for the 2014 Mas Wrestling World Championships," Clay Edgin reported to IronMind today.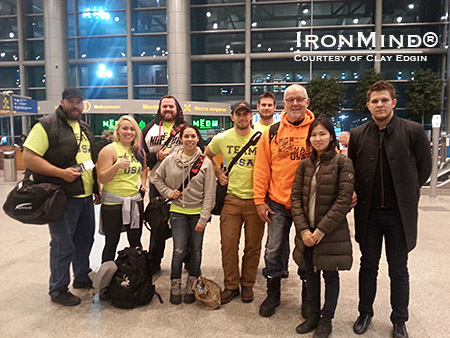 Representatives of Team USA at 2014 Mas Wrestling World Championships (left to right): Clay Edgin, Liefia Ingalls, Jacob Finerty, Malina Lord, Shawn Paul Couch, Martins Licis, Odd Haugen. IronMind® | Photo courtesy of Clay Edgin/Mas Wrestling USA


"Forgoing the traditional turkey for borscht this Thanksgiving, the team met up at LAX and made the 30 hour trip to Yakutsk City for the MAS Wrestling World Championships, including a wild trip through Moscow that included a shuttle ride, a quick jog through downtown, and an express train between airports," Edgin said.

"America's involvement with the ancient sport may only go back two years, but the explosive growth of MAS Wrestling in the US over the last year has resulted in a team of 6 athletes being fielded and prepped for battle.

"President of Mas Wrestling USA Odd Haugen and Director of Sport Development Clay Edgin escorted the athletes to the coliseum where the World Championships is to take place. "Discussions with a volunteer at the event indicated that all of the approximately 10,000 seats were expected to sell out, making this one of the largest publicly attended Mas wrestling tournaments ever.

"Delegations from all around the world were pouring into the Triumph Hotel throughout the day and the small army of volunteers kept things flowing smoothly. A number of sightseeing tours are planned for Team USA to better acquaint them to the Yakut culture with competitions beginning Saturday," said Edgin.

Team USA is represented by:

• Danielle Curry
• Liefia Ingalls
• Malina Lord
• Shawn Paul Couch
• Martins Licis
• Jacob Finerty

Mas wrestling has been called "close quarters tug of war" and it is a test of strength with deep roots in multiple cultures around the world; while as a sport, it is most closely associated with Yakutsk, Republic of Sakha, Russia.

###



Want to talk strength? Join the IronMind Forum.

You can also follow IronMind on Twitter and on Facebook.